The largest offering of Bobcat Final Drives
Are you in need of a final drive for your excavator or compact track loader? Fear not, because Summit Tractor Parts is here to help! Our wide variety of Bobcat final drives and travel motors are designed to fit almost any model, so you can get your machine running smoothly again. Our FDC final drives are built to provide excellent performance and quality at an affordable price, and are backed by a 2-year warranty for added peace of mind.
If you prefer to recondition your parts, we have a vast selection of OEM and aftermarket spare parts available to help you complete your repairs quickly and cost-effectively. And if you need assistance, our 'repair and return' service is always available.
Take a look at the 'Final Drive Finder' below to explore your options and request a quote. Don't wait any longer, let us help you get your excavator back up and running like new!
Call us today at 866-695-0970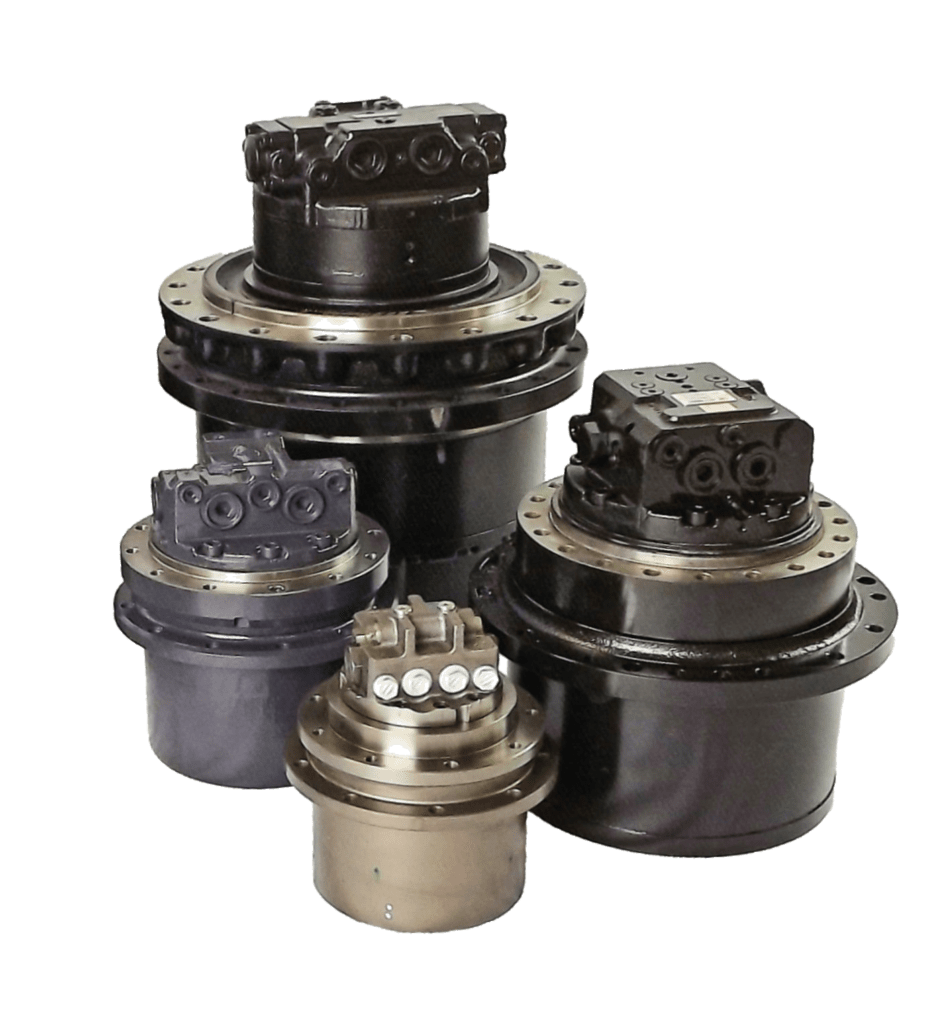 Looking for a different part?
Summit Tractor Parts is committed to supporting the following list of models with FDC final drives, travel motors, and repair parts. If you need any assistance identifying the correct final drive for your machine, please use the "FDC Final Drive Finder" above or give us a call.
| | | |
| --- | --- | --- |
| Bobcat | 56 | 20M-60-40100 |
| Bobcat | 100 | 6638812 |
| Bobcat | 116 | 6638812 |
| Bobcat | 130 | 6639085 |
| Bobcat | 220 | 6651892 |
| Bobcat | 225 | 6652841 |
| Bobcat | 225 | 6692633 |
| Bobcat | 231 | 6659564 |
| Bobcat | 319 | 6685976 |
| Bobcat | 320 | 6667336 |
| Bobcat | 320 | 6667750 |
| Bobcat | 321 | 6688447 |
| Bobcat | 322 | 6667336 |
| Bobcat | 322 | 6667750 |
| Bobcat | 323 | 6686158 |
| Bobcat | 324 | 6688447 |
| Bobcat | 325 | 6692633 |
| Bobcat | 325 | 6652841 |
| Bobcat | 325 | 6668135 |
| Bobcat | 328 | 6692633 |
| Bobcat | 328 | 6668135 |
| Bobcat | 328 | 6692633 |
| Bobcat | 329 | 6689642 |
| Bobcat | 331 | 6677666 |
| Bobcat | 331 | 6659564 |
| Bobcat | 331 | 6670667 |
| Bobcat | 334 | 6677666 |
| Bobcat | 334 | 6659564 |
| Bobcat | 334 | 6667338 |
| Bobcat | 334 | 6670667 |
| Bobcat | 335 | 6691497 |
| Bobcat | 337 | 6668730 |
| Bobcat | 425 | 6677666 |
| Bobcat | 428 | 6677666 |
| Bobcat | 430 | 6691497 |
| Bobcat | 430 | 6683380 |
| Bobcat | 430 | 6685454 |
| Bobcat | 435 | 6668730 |
| Bobcat | 442 | 5459660217 |
| Bobcat | 442 | 5459660210 |
| Bobcat | 442 | 5999991227 |
| Bobcat | 220 | 6651892 |
| Bobcat | 220 | 6677665 |
| Bobcat | 319K | 6685976 |
| Bobcat | 320 C | 6651892 |
| Bobcat | 320 C | 6667336 |
| Bobcat | 320 C | 6667750 |
| Bobcat | 320 D | 6667336 |
| Bobcat | 320 D | 6667750 |
| Bobcat | 320 J | 6667336 |
| Bobcat | 320 J | 6667750 |
| Bobcat | 320C | 6667336 |
| Bobcat | 320D | 6667336 |
| Bobcat | 322 C | 6667336 |
| Bobcat | 322 C | 6667750 |
| Bobcat | 322 D | 6667336 |
| Bobcat | 322 D | 6667750 |
| Bobcat | 322C | 6667336 |
| Bobcat | 322D | 6667336 |
| Bobcat | 323 J | 6686158 |
| Bobcat | 323 K | 6688447 |
| Bobcat | 323* | 6686158 |
| Bobcat | 323K | 6688447 |
| Bobcat | 325 C | 6652841 |
| Bobcat | 325 D | 6692633 |
| Bobcat | 325C | 6652841 |
| Bobcat | 325D | 6692633 |
| Bobcat | 325D | 6668135 |
| Bobcat | 325G | 6677665 |
| Bobcat | 328 D | 6677665 |
| | | |
| --- | --- | --- |
| Bobcat | 328 G | 6677665 |
| Bobcat | 328D | 6677665 |
| Bobcat | 328D | 6668135 |
| Bobcat | 328G | 6677665 |
| Bobcat | 331 C | 6659564 |
| Bobcat | 331 D | 6670667 |
| Bobcat | 331 D | 6677666 |
| Bobcat | 331 E | 6677666 |
| Bobcat | 331 G | 6677666 |
| Bobcat | 331C | 6670667 |
| Bobcat | 331D | 6677666 |
| Bobcat | 331D | 6670667 |
| Bobcat | 331E | 6677666 |
| Bobcat | 331E | 6670667 |
| Bobcat | 331E D | 6670667 |
| Bobcat | 331E D | 6677666 |
| Bobcat | 331G | 6677666 |
| Bobcat | 334 D | 6670667 |
| Bobcat | 334 D | 6677666 |
| Bobcat | 334 G | 6677666 |
| Bobcat | 334D | 6677666 |
| Bobcat | 334D | 6670667 |
| Bobcat | 334G | 6677666 |
| Bobcat | 337 C | 6668730 |
| Bobcat | 337 D | 6668730 |
| Bobcat | 337 G | 6668730 |
| Bobcat | 341 C | 6668730 |
| Bobcat | 341 D | 6668730 |
| Bobcat | 430 D | 6683380 |
| Bobcat | 430 G | 6683380 |
| Bobcat | E10 | 6691107 |
| Bobcat | E14 | 6685976 |
| Bobcat | E16 | 6688447 |
| Bobcat | E17 | 7027485 |
| Bobcat | E17 | 7245682 |
| Bobcat | E19 | 7245682 |
| Bobcat | E20 | 7245682 |
| Bobcat | E25 | 7190517 |
| Bobcat | E25 | 7022813 |
| Bobcat | E26 | 7190517 |
| Bobcat | E26 | 7022813 |
| Bobcat | E27 | 7190517 |
| Bobcat | E26 | 7253997 |
| Bobcat | E32 | 6698127 |
| Bobcat | E32 | 7009157 |
| Bobcat | E32I | 6698127 |
| Bobcat | E32I | 7009157 |
| Bobcat | E34 | 6698127 |
| Bobcat | E35 | 6698127 |
| Bobcat | E35 | 7009157 |
| Bobcat | E35I | 6698127 |
| Bobcat | E35I | 7009157 |
| Bobcat | E42 | 6691497 |
| Bobcat | E45 | 7012323 |
| Bobcat | E50 | 6668730 |
| Bobcat | E55 | 6668730 |
| Bobcat | E62 | 7029749 |
| Bobcat | E63 | 7029749 |
| Bobcat | E80 | 7006068 |
| Bobcat | E80 | 7007472 |
| Bobcat | E80 | 7007467 |
| Bobcat | X220 | 6651892 |
| Bobcat | X225 | 6692633 |
| Bobcat | X320 | 6667336 |
| Bobcat | X320 | 6667750 |
| Bobcat | X325 | 6692633 |
| Bobcat | X325 | 6668135 |
| Bobcat | X328 | 6668135 |
| Bobcat | X331 | 6659564 |
| Bobcat | X335 | 6633249 |
| Bobcat | ZX75 | 5459660217 |