The largest selection of Case Final Drives
Look no further than Summit Tractor Parts for your equipment's final drive needs. With a vast selection of Case final drives and travel motors compatible with almost any model, we are certain to have exactly what you need. Our FDC final drives are top-of-the-line in quality and performance, all at aftermarket prices. Additionally, our confidence in the quality of our products is evidenced by our 2-year warranty offered on every purchase.
If you prefer to recondition yourself, we also provide a wide range of both OEM and aftermarket spare parts designed to make your repairs as efficient and economical as possible. If you're feeling the pressure, our 'repair and return' service can relieve the stress.
Ready to confidently tackle your excavator's repairs? Utilize our 'Final Drive Finder' to determine your options and request a quote. Our team is always available and prepared to get you back to work in no time.
Call us today at 866-695-0970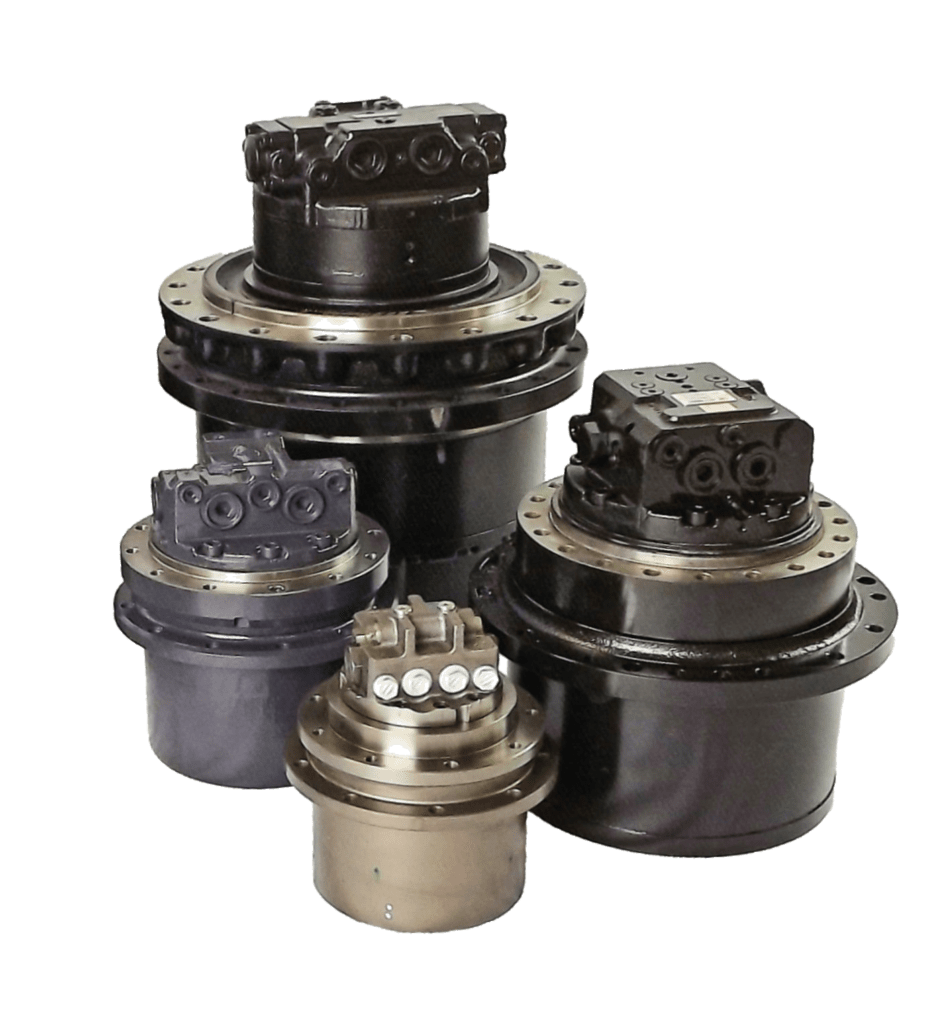 Looking for a different part?
Summit Tractor Parts is committed to supporting the following list of models with FDC final drives, travel motors, and repair parts. If you need any assistance identifying the correct final drive for your machine, please use the "FDC Final Drive Finder" above or give us a call.
| | | |
| --- | --- | --- |
| Case | 23 | PM15V00009F1 |
| Case | 23 | PM15V00005F1 |
| Case | 28 | 6010204M91 |
| Case | 28 | 6191884M91 |
| Case | 28 | 6010203M91 |
| Case | 28 | 6010205M91 |
| Case | 28 | 6191892M91 |
| Case | 31 | 6010203M91 |
| Case | 35 | 6010203M91 |
| Case | 35 | 6191884M91 |
| Case | 35 | 6010204M91 |
| Case | 50 | PY15V00002F1 |
| Case | 588 | X2948529 |
| Case | 588 | Z4743726 |
| Case | 688 | P2348589 |
| Case | 688 | P2343765 |
| Case | 888 | P2348589 |
| Case | 888 | P2343766 |
| Case | 9007 | KAA1207 |
| Case | 9007 | 166291A1 |
| Case | 9007 | LN001380 |
| Case | 9007 | LJ013140 |
| Case | 9007 | 166917A1 |
| Case | 9007 | 166915A1 |
| Case | 9010 | 151018A1 |
| Case | 9010 | 156887A1 |
| Case | 9013 | KNA0767 |
| Case | 9013 | 164541A1 |
| Case | 9013 | 164693A1 |
| Case | 9013 | 164691A1 |
| Case | 9020 | 158046A1 |
| Case | 9020 | 155817A1 |
| Case | 9020 | 158399A1 |
| Case | 9021 | 160432A1 |
| Case | 9021 | 160142A1 |
| Case | 9021 | 160558A1 |
| Case | 9030 | 152535A1 |
| Case | 9030 | 155794A1 |
| Case | 9030 | 155808A1 |
| Case | 9040 | 151890A1 |
| Case | 9040 | 158038A1 |
| Case | 9040 | 155828A1 |
| Case | 9045 | 163850A1 |
| Case | 1188 CK | B2948532 |
| Case | 1188 CK | R4743719 |
| Case | 1188 LC | B2948532 |
| Case | 1188 LC | R4743719 |
| Case | 1288CK | B2648566 |
| Case | 1288CK | R4743719 |
| Case | 1288NLC | E2948512 |
| Case | 1288NLC | R4743719 |
| Case | 15 | 6010074M91 |
| Case | 15 | 6010766M91 |
| Case | 15 | 6011086M91 |
| Case | 16 | 6010074M91 |
| Case | 16 | 6010766M91 |
| Case | 16 | 6011086M91 |
| Case | 16 | 6010073M91 |
| Case | 16 | 6011087M91 |
| Case | 420CT | 87588897 |
| Case | 420CT | 87447234 |
| Case | 440CT | 87588897 |
| Case | 440CT | 87447234 |
| Case | 445CT | 87588897 |
| Case | 445CT | 87447234 |
| Case | 450CT | 87588897 |
| Case | 450CT | U2948526 |
| Case | 688B | A2948531 |
| Case | 688B CK | X2948529 |
| Case | 688B CK | Z4743726 |
| Case | 788CK | X2948529 |
| Case | 788CK | Z4743726 |
| Case | 788LC | X2948529 |
| Case | 788LC | Q4743787 |
| Case | 788LLC | B2948532 |
| Case | 788LLC | C2948533 |
| Case | 888 Amphibious | B2948532 |
| Case | 888 Amphibious | A4743750 |
| Case | 888B CK | U2948526 |
| Case | 888B CK | A4743727 |
| Case | 888B CKE | U2948526 |
| Case | 888B CKE | A4743727 |
| Case | 888B CKL | B2948532 |
| Case | 888B CKL | R4743719 |
| Case | 9007B | 166291A1 |
| Case | 9007B | 166917A1 |
| Case | 9007B | 166915A1 |
| Case | 9010B | 164541A1 |
| Case | 9010B | 161025A1 |
| Case | 9010B | 160894A1 |
| Case | 9010B | 160892A1 |
| Case | 9010B | LN00072 |
| Case | 9010B | 164691A1 |
| Case | 9020B | KLA0134 |
| Case | 9020B | 161303A1 |
| Case | 9020B | 161321A1 |
| Case | 9020B | 161320A1 |
| Case | 9030B | 160432A1 |
| Case | 9030B | 160142A1 |
| Case | 9030B | 160558A1 |
| Case | 9030B | 159423A1 |
| Case | 9030B | 160141A1 |
| Case | 9030B TK | 159423A1 |
| Case | 9040B | 159423A1 |
| Case | 9040B | 160142A1 |
| Case | 9040B | 160141A1 |
| Case | 9040B TK | 163850A1 |
| Case | 9050B | 162165A1 |
| Case | 988 CK | U2948526 |
| Case | 988 CK | A4743727 |
| Case | C15 | 6010766M91 |
| Case | C15 | 6011086M91 |
| Case | CK13 | 6815761290 |
| Case | CK13 | 6971561292 |
| Case | CK13 | 6972573000 |
| Case | CK15 | 6819761290 |
| Case | CK15 | 6972561292 |
| Case | CK15 | 6972573000 |
| Case | CK25 | 6831561390 |
| Case | CK25 | 6974561390 |
| Case | CK25 | 6831113700 |
| Case | CK28 | 6831561390 |
| Case | CK28 | 6831113700 |
| Case | CK36 | 6865761290 |
| Case | CK36 | 6865113300 |
| Case | CK38 | 200107A1 |
| Case | CK50 | 6867761290 |
| Case | CK50 | 6867113300 |
| Case | CK52 | 200166A1 |
| Case | CX130 | 169351A1 |
| Case | CX130 | KNA10460 |
| Case | CX130 | 164693A1 |
| Case | CX130 | LJ013420 |
| Case | CX130 | LN00072 |
| Case | CX130 | LJ013420 |
| Case | CX130B | KNA10520 |
| Case | CX130B | LN002260 |
| Case | CX130B | LJ015920 |
| Case | CX130C | KNA10520 |
| Case | CX130C | LN002260 |
| Case | CX130C | LJ015920 |
| Case | CX130D | 47852296 |
| Case | CX130D | KNA13631 |
| Case | CX135SR | KMA1321 |
| Case | CX135SR | KNA10460 |
| Case | CX135SR | KMA1321 |
| Case | CX135SR | KNA10520 |
| Case | CX135SR | 164693A1 |
| Case | CX135SR | LN00072 |
| Case | CX135SR | LN002260 |
| Case | CX135SR | LJ013420 |
| Case | CX135SR | LJ015920 |
| Case | CX14 | PE15V00005F1 |
| Case | CX14 | PE15V01003F1 |
| Case | CX145C SR | KNA10520 |
| | | |
| --- | --- | --- |
| Case | CX145C SR | LN002260 |
| Case | CX145C SR | LJ015920 |
| Case | CX145D | KNA13631 |
| Case | CX15 | 47043304 |
| Case | CX15 | 47046222 |
| Case | CX15B | 72271598 |
| Case | CX15B | 72275297 |
| Case | CX16 | 47043305 |
| Case | CX16 | 47045987 |
| Case | CX160 | KLA0156 |
| Case | CX160B | KLA10030 |
| Case | CX160B | KLA10710 |
| Case | CX160C | KLA10650 |
| Case | CX16B | 72271598 |
| Case | CX16B | 72275297 |
| Case | CX17B | PU15V00021F1 |
| Case | CX17B | PU15V00018F1 |
| Case | CX180 | KRA1860 |
| Case | CX180 | KRA10120 |
| Case | CX180B | KRA10120 |
| Case | CX180B | KRA12910 |
| Case | CX180B | KRA10150 |
| Case | CX180C | KRA15450 |
| Case | CX180D | KRA16480 |
| Case | CX18B | 72271598 |
| Case | CX18B | 72275297 |
| Case | CX20B | 72282278 |
| Case | CX210 | KRA1426 |
| Case | CX210 | KRA1860 |
| Case | CX210 | KRA10120 |
| Case | CX210B | KRA10150 |
| Case | CX210B | KRA12910 |
| Case | CX210B | KRA15440 |
| Case | CX210BLR | KRA12910 |
| Case | CX210BLR | KRA10150 |
| Case | CX210BNLC | KRA10150 |
| Case | CX210BNLC | KRA12910 |
| Case | CX210C | KRA15450 |
| Case | CX210D | KRA16480 |
| Case | CX210LR | KRA10120 |
| Case | CX210N | KRA10120 |
| Case | CX220B | KRA15440 |
| Case | CX225SR | KBA1024 |
| Case | CX225SR | KBA10060 |
| Case | CX225SR | KRA12910 |
| Case | CX225SR | KBA1318 |
| Case | CX225SR | LZ00381 |
| Case | CX22B | 72282278 |
| Case | CX23 | PM15V00009F1 |
| Case | CX23 | PM15V00005F1 |
| Case | CX230 | KBA10060 |
| Case | CX230 | LN001410 |
| Case | CX230B | KBA10290 |
| Case | CX230B | LN001880 |
| Case | CX230D | KBA14710 |
| Case | CX235C SR | KBA13690 |
| Case | CX240 | KBA10060 |
| Case | CX240 | LN001410 |
| Case | CX240B | KBA10290 |
| Case | CX240B | LN001880 |
| Case | CX240BLR | KBA10290 |
| Case | CX240BLR | LN001880 |
| Case | CX240LC | KBA1024 |
| Case | CX240LC | LZ00381 |
| Case | CX240LR | KBA1024 |
| Case | CX240LR | KBA10060 |
| Case | CX240LR | LN001410 |
| Case | CX240LR | LZ00381 |
| Case | CX240NLC | KBA1024 |
| Case | CX240NLC | LZ00381 |
| Case | CX25 | PV15V00018F1 |
| Case | CX250C | KBA12640 |
| Case | CX250C | KBA13690 |
| Case | CX250C LR | KBA13690 |
| Case | CX250D | KBA14710 |
| Case | CX26B | 72282278 |
| Case | CX27B | PM15V00021F1 |
| Case | CX27B | 72281630 |
| Case | CX28 | 47043512 |
| Case | CX28 | 47046031 |
| Case | CX290 | KBA1137 |
| Case | CX290 | LN00092 |
| Case | CX290 | LJ00953 |
| Case | CX290B | KBA10750 |
| Case | CX290B | LN001980 |
| Case | CX290B | LJ014910 |
| Case | CX300C | KBA10752 |
| Case | CX300C | LN001980 |
| Case | CX300C | LJ018700 |
| Case | CX300D | KBA14840 |
| Case | CX30B | 72281630 |
| Case | CX31 | PW15V00018F3 |
| Case | CX31 | 47043512 |
| Case | CX31 | 47046031 |
| Case | CX31B | PX15V00025F1 |
| Case | CX330 | KSA10220 |
| Case | CX330 | LN00135 |
| Case | CX330 | LN00096 |
| Case | CX330 | LN001600 |
| Case | CX330 | LJ01273 |
| Case | CX330 | LJ013790 |
| Case | CX330 | LJ13260 |
| Case | CX330B | KSA10220 |
| Case | CX35 | 47043513 |
| Case | CX35 | 47046013 |
| Case | CX350 | KSA10220 |
| Case | CX350 | LN00135 |
| Case | CX350 | LJ01273 |
| Case | CX350B | KSA10220 |
| Case | CX350B | LJ001600 |
| Case | CX350B | LJ013790 |
| Case | CX350C | KSA10220 |
| Case | CX36 | PX15V00020F2 |
| Case | CX36B | PX15V00025F1 |
| Case | CX36B | PX15V00027F1 |
| Case | CX370B | KSA10220 |
| Case | CX370C | KSA10220 |
| Case | CX370D | KSA14090 |
| Case | CX40B | 72284190 |
| Case | CX45B | 72284190 |
| Case | CX460 | KTA10192 |
| Case | CX460B | KTA10192 |
| Case | CX47 | PY15V00009F3 |
| Case | CX50 | PY15V00002F1 |
| Case | CX50B | 72284190 |
| Case | CX50B | PY15V00009F3 |
| Case | CX50B | PH15V00012F1 |
| Case | CX55B | 72284190 |
| Case | CX55B | PS15V00003F1 |
| Case | CX55B | 72284190 |
| Case | CX75C SR | KAA10310 |
| Case | CX75C SR | LN002390 |
| Case | CX75C SR | LJ017130 |
| Case | CX75SR | KAA1132 |
| Case | CX75SR | KAA10310 |
| Case | CX75SR | LN00106 |
| Case | CX75SR | LN002390 |
| Case | CX75SR | LJ01025 |
| Case | CX75SR | LN017130 |
| Case | CX80 | KAA1132 |
| Case | CX80 | KAA10310 |
| Case | CX80 | LN00106 |
| Case | CX80 | LN002390 |
| Case | CX80 | LJ01025 |
| Case | CX80 | LJ017130 |
| Case | CX80C | KAA10310 |
| Case | CX80C | LN002390 |
| Case | CX80C | LJ017130 |
| Case | TR270 | 87588897 |
| Case | TR270 | 47923177 |
| Case | TR270B | 84586919 |
| Case | TR320 | 87588897 |
| Case | TR320 | 47923177 |
| Case | TR320B | 84586919 |
| Case | TV380 | 87588897 |
| Case | TV380 | 47923177 |