Specialists in Doosan Final Drives
Looking for a final drive for your excavator or mini excavator? No worries – Summit Tractor Parts has got your back! We've got an extensive variety of Doosan final drives and travel motors to fit just about any model you've got. Our FDC final drives provide amazing performance and quality – all at aftermarket prices! Plus, they're backed by a 2-year warranty, so you can rest easy knowing they're built to last.
If you prefer reconditioning, that's not a problem either! We've got loads of OEM and aftermarket spare parts to help you get your repairs finished quickly and economically. We even have a 'repair and return' service if you need it.
Ready to get started? Take a glance at the 'Final Drive Finder' tool below to view your options and expertly create a quote request. We'll respond speedily with a quote so you can get your excavator back up and running in no time!
Call us today at 866-695-0970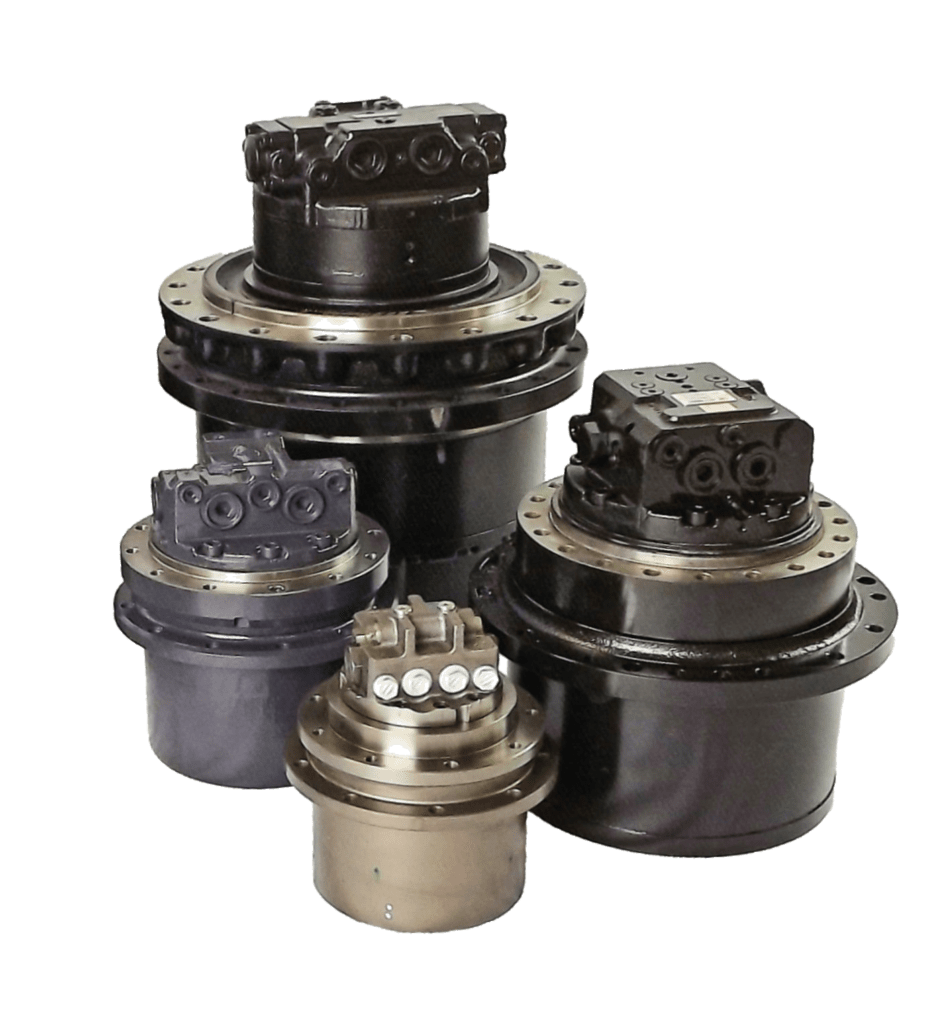 Looking for a different part?
Summit Tractor Parts is committed to supporting the following list of models with FDC final drives, travel motors, and repair parts. If you need any assistance identifying the correct final drive for your machine, please use the "FDC Final Drive Finder" above or give us a call.
| | | |
| --- | --- | --- |
| Doosan | DX140LC | 170401-00029A |
| Doosan | DX140LC | K1014772A |
| Doosan | DX140LC | 170401-00029 |
| Doosan | DX140LC | K9005369 |
| Doosan | DX140LC | K9005398 |
| Doosan | DX140LC-3 | 170401-00082 |
| Doosan | DX140LC-5 | 170401-00082 |
| Doosan | DX140LCR | 170401-00012 |
| Doosan | DX140LCR-3 | 170401-00082 |
| Doosan | DX140R | 170401-00012 |
| Doosan | DX15 | 401-00422 |
| Doosan | DX15 | 2.401-00059 |
| Doosan | DX15 | 2.401-00058 |
| Doosan | DX160LC | K1017674 |
| Doosan | DX160LC | 170401-00079 |
| Doosan | DX160LC | 170401-00479A |
| Doosan | DX160LC-3 | 170401-00059A |
| Doosan | DX160LC-3 | 170401-00082 |
| Doosan | DX18 | 401-00422 |
| Doosan | DX18 | 2.401-00059 |
| Doosan | DX18 | 2.401-00058 |
| Doosan | DX180LC | K1017674 |
| Doosan | DX180LC | 170401-00079 |
| Doosan | DX180LC | 170401-00479A |
| Doosan | DX180LC | K9004308 |
| Doosan | DX180LC | K9004441 |
| Doosan | DX180LC-3 | 170401-00059A |
| Doosan | DX180LC-3 | 170401-00059B |
| Doosan | DX180LC-5 | 170401-00059A |
| Doosan | DX180LC-5 | 170401-00059B |
| Doosan | DX19 | 7275965 |
| Doosan | DX220LC | 170401-00039B |
| Doosan | DX225LC | K1000681A |
| Doosan | DX225LC | 170401-00041A |
| Doosan | DX225LC | 170401-00039A |
| Doosan | DX225LC | K9007404 |
| Doosan | DX225LC-3 | 170401-00039B |
| Doosan | DX225LCV | K1000681A |
| Doosan | DX225N LC | K1000681A |
| Doosan | DX225N LC | 170401-00041A |
| Doosan | DX230LC | K1037757 |
| Doosan | DX235LCR | 170401-00039A |
| Doosan | DX235NLC | K1000681A |
| Doosan | DX255 | K1011413A |
| Doosan | DX255-3 | 170401-00037A |
| Doosan | DX255-3 | 170402-00029 |
| Doosan | DX255LC | K1011413A |
| Doosan | DX255LC | 170401-00042 |
| Doosan | DX255LC-3 | 170401-00037A |
| Doosan | DX255LC-3 | 170402-00029 |
| Doosan | DX27Z | K1013467 |
| Doosan | DX27Z | K9005304 |
| Doosan | DX300LC | 170401-00048 |
| Doosan | DX300LC | 401-00439C |
| Doosan | DX300LC | 404-00098C |
| Doosan | DX300LC | 401-00440B |
| Doosan | DX300LC-3 | 170401-00007B |
| | | |
| --- | --- | --- |
| Doosan | DX300LC-3 | 170401-00007C |
| Doosan | DX300LC-3 | 170401-00007E |
| Doosan | DX300LC-3 | 170401-00007G |
| Doosan | DX300LC-3 | 170402-00021 |
| Doosan | DX300LC-5 | 170401-00007E |
| Doosan | DX300LC-5 | 170401-00007G |
| Doosan | DX300LC-5 | 170401-00007K |
| Doosan | DX300LC-5 | 170402-00021 |
| Doosan | DX300LL | K1012069 |
| Doosan | DX30Z | K1028103 |
| Doosan | DX30Z | K1028103B |
| Doosan | DX30Z | K9005923 |
| Doosan | DX340LC | K1003131 |
| Doosan | DX340LC | K1003134 |
| Doosan | DX340LC | K1003132 |
| Doosan | DX340LC-3 | 170401-00077 |
| Doosan | DX340LC-5 | 170401-00077G |
| Doosan | DX340LC-5 | 170401-00077G |
| Doosan | DX350LC | 170401-00014A |
| Doosan | DX350LC | K1003134 |
| Doosan | DX350LC | 170403-00104 |
| Doosan | DX350LC-3 | 170401-00077 |
| Doosan | DX35Z | K1010210A |
| Doosan | DX35Z | K1010210B |
| Doosan | DX35Z | K9003720 |
| Doosan | DX380LC | K1033688 |
| Doosan | DX380LC | 170401-00015A |
| Doosan | DX380LC | 170401-00015 |
| Doosan | DX420LC | 2401-6357E |
| Doosan | DX420LC-3 | 170401-00069E |
| Doosan | DX420LC-5 | 170401-00069E |
| Doosan | DX480LC | 2401-9229A |
| Doosan | DX480LC | 2401-6292A |
| Doosan | DX490LC-3 | 170401-00120A |
| Doosan | DX490LC-5 | 170401-00120A |
| Doosan | DX500LC | 170401-00120A |
| Doosan | DX500LC-9 | 170401-00120A |
| Doosan | DX520LC | 2401-9229A |
| Doosan | DX520LC | 2401-6292A |
| Doosan | DX530LC-3 | 170401-00120A |
| Doosan | DX530LC-5 | 170401-00120A |
| Doosan | DX55 | 2401-9232B |
| Doosan | DX55 | 170403-00082 |
| Doosan | DX55 | K1053100 |
| Doosan | DX55 | 170402-00013 |
| Doosan | DX55 | 170403-00115 |
| Doosan | DX60R | 170403-00100 |
| Doosan | DX60R | K1033230B |
| Doosan | DX60R | 170403-00100A |
| Doosan | DX60R | K9005741 |
| Doosan | DX80R | K1029668 |
| Doosan | DX80R | K9006757 |
| Doosan | DX80R | K9006752 |
| Doosan | DX85R-3 | 170401-00074A |
| Doosan | E80 | K1029668 |
| Doosan | E80 | K9006757 |
| Doosan | E80 | K9006752 |