Large selection of Hitachi Final Drives
Hi there! Are you in search of the perfect final drive for your excavator or mini excavator? Look no further! At Summit Tractor Parts, we've got you covered. Our diverse range of Hitachi final drives and travel motors will fit nearly any model you may own! Our FDC final drives are designed to give you the utmost quality and performance without breaking the bank. Plus, they come with a full 2-year warranty so you can have peace of mind knowing they are built to last!
If you prefer reconditioning, we have a great selection of OEM and aftermarket spare parts available to make your repairs quick and easy. Don't want to do it yourself? No worries, we have a 'repair and return' service too.
Ready to get started? Use the 'Final Drive Finder' tool below to explore your options and request a quote. We are committed to responding fast, so you can have your excavator working like new again in no time!
Call us today at 866-695-0970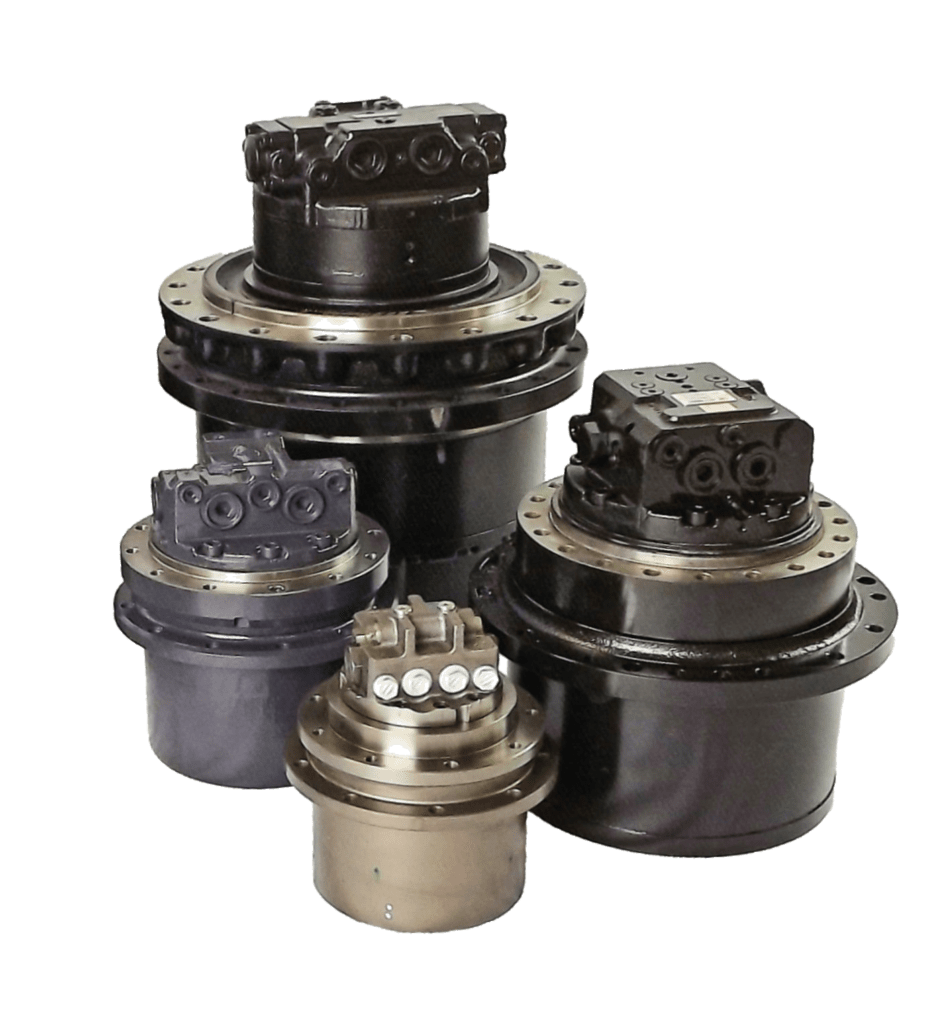 Looking for a different part?
Summit Tractor Parts is committed to supporting the following list of models with FDC final drives, travel motors, and repair parts. If you need any assistance identifying the correct final drive for your machine, please use the "FDC Final Drive Finder" above or give us a call.
| | | |
| --- | --- | --- |
| Hitachi | EX150LC-5 | 4359799 |
| Hitachi | EX150LC-5 | 4389722 |
| Hitachi | EX15-2 | 4331678 |
| Hitachi | EX160LC-5 | 4359799 |
| Hitachi | EX160LC-5 | 4389722 |
| Hitachi | EX16-2B | 4438053 |
| Hitachi | EX17-2B | EX17-2B |
| Hitachi | EX20UR-2 | 4330466 |
| Hitachi | EX22 | 4309476 |
| Hitachi | EX22-1 | 4309476 |
| Hitachi | EX22-2 | 4331679 |
| Hitachi | EX22-2 | H4331679 |
| Hitachi | EX25 | 4331679 |
| Hitachi | EX25 | 4309476 |
| Hitachi | EX25-2 | 4331679 |
| Hitachi | EX27 | 4415270 |
| Hitachi | EX27U | 4415270 |
| Hitachi | EX27U | 4420996 |
| Hitachi | EX27U-1 | 4415270 |
| Hitachi | EX29UE-1 | 4415270 |
| Hitachi | EX30-1 | 4309477 |
| Hitachi | EX30-1 | 4266832 |
| Hitachi | EX30-2 | 4331680 |
| Hitachi | EX30-2 | 9161418 |
| Hitachi | EX30-2 | 4331680 |
| Hitachi | EX30-2 | H4331680 |
| Hitachi | EX30U | 4406904 |
| Hitachi | EX30UR-2 | 4309476 |
| Hitachi | EX32UE | 4406904 |
| Hitachi | EX33MU-1 | 4353276 |
| Hitachi | EX33U-1 | 4353276 |
| Hitachi | EX35-1 | 4420998 |
| Hitachi | EX35-1 | 9189968 |
| Hitachi | EX35-2 | 4331680 |
| Hitachi | EX35-2 | 9132555 |
| Hitachi | EX35-5 | 4420998 |
| Hitachi | EX35U | 4420998 |
| Hitachi | EX35U-1 | 4415132 |
| Hitachi | EX36UE-1 | 4415132 |
| Hitachi | EX40-1 | 4317019 |
| Hitachi | EX40-1 | 4266834 |
| Hitachi | EX40-2 | 4350449 |
| Hitachi | EX40-2 | 4370053 |
| Hitachi | EX40U | 4390493 |
| Hitachi | EX40U | 4433991 |
| Hitachi | EX40U | 4404043 |
| Hitachi | EX40U-1 | 4403500 |
| Hitachi | EX40U-1 | 4422700 |
| Hitachi | EX40UR-2C | 4350449 |
| Hitachi | EX40UR-3 | 4435579 |
| Hitachi | EX45-1 | 4317019 |
| Hitachi | EX45-2 | 4350449 |
| Hitachi | EX45-2 | 4370053 |
| Hitachi | EX45-5 | 4350449 |
| Hitachi | EX45-5 | 4370053 |
| Hitachi | EX50U | 4403500 |
| Hitachi | EX50U-1 | 4433991 |
| Hitachi | EX50U-1 | 4403500 |
| Hitachi | EX50U-1 | 4422700 |
| Hitachi | EX55UR-1 | 4310049 |
| Hitachi | EX55UR-3 | 4403533 |
| Hitachi | EX55UR-3 | 4352396 |
| Hitachi | EX55UR-3 | 0732201 |
| Hitachi | EX58MU | 4352396 |
| Hitachi | EX60-1 | 9069295 |
| Hitachi | EX60-2 | 9111033 |
| Hitachi | EX60-3 | 9111033 |
| Hitachi | EX60-5 | 9164868 |
| Hitachi | EX60G | 9069295 |
| Hitachi | EX60SR-1 | 9069295 |
| Hitachi | EX60URG | 9069295 |
| Hitachi | EX75UR | 9133897 |
| Hitachi | EX75UR-3 | 9133897 |
| Hitachi | HX140B | 4453287 |
| Hitachi | UE30 | UE30-FD |
| Hitachi | UE50 |   |
| Hitachi | ZX120 | 9181123 |
| Hitachi | ZX120 | 9196238 |
| Hitachi | ZX120-3 | 9181123 |
| Hitachi | ZX120-3 | 9196238 |
| Hitachi | ZX125 | 9181123 |
| Hitachi | ZX125 | 9196238 |
| Hitachi | ZX130 | 9181123 |
| Hitachi | ZX130 | 9196238 |
| Hitachi | ZX130-3 | 9181123 |
| Hitachi | ZX130-3 | 9196238 |
| Hitachi | ZX130K-3 | 9181123 |
| Hitachi | ZX130K-3 | 9196238 |
| Hitachi | ZX130LCN-3 | 9181123 |
| Hitachi | ZX130LCN-3 | 9196238 |
| Hitachi | ZX16 | E4460667 |
| Hitachi | ZX16 | E4612678 |
| Hitachi | ZX160 | 4447928 |
| Hitachi | ZX160 | 4466663 |
| | | |
| --- | --- | --- |
| Hitachi | ZX18 | E4460667 |
| Hitachi | ZX18 | E4612678 |
| Hitachi | ZX25 | E4470699 |
| Hitachi | ZX25 | E4612918 |
| Hitachi | ZX27U | 4691488 |
| Hitachi | ZX27U | 4415270 |
| Hitachi | ZX27U-2 | 4642389 |
| Hitachi | ZX27U-3 | 4691488 |
| Hitachi | ZX27U-3CLR | 4691488 |
| Hitachi | ZX27U-3CLR | 4699433 |
| Hitachi | ZX27U-3CLR | 1237901 |
| Hitachi | ZX27UNA-2 | 4691488 |
| Hitachi | ZX29U-3 |   |
| Hitachi | ZX30 | 4614213 |
| Hitachi | ZX30 | 4466795 |
| Hitachi | ZX30 | 0847801 |
| Hitachi | ZX30 CLR | 4466795 |
| Hitachi | ZX30 CLR | 0847801 |
| Hitachi | ZX30U | 4614213 |
| Hitachi | ZX30U-2 | 4691488 |
| Hitachi | ZX30UR | 4466804 |
| Hitachi | ZX30UR | 9213625 |
| Hitachi | ZX30UR | 0860701 |
| Hitachi | ZX33U-3 | 4691489 |
| Hitachi | ZX35 | 4466795 |
| Hitachi | ZX35 | 9209825 |
| Hitachi | ZX35CLR | 4466795 |
| Hitachi | ZX35U | 4614213 |
| Hitachi | ZX35U | 4466795 |
| Hitachi | ZX35U-2 | 4691489 |
| Hitachi | ZX35U-2 | 4614213 |
| Hitachi | ZX40U | 4403500 |
| Hitachi | ZX40U | 4433991 |
| Hitachi | ZX40U-2 | 4628892 |
| Hitachi | ZX40U-2 | 0922101 |
| Hitachi | ZX40U-3 | 4671390 |
| Hitachi | ZX40U-3 | 1185401 |
| Hitachi | ZX40U-3U | 4671390 |
| Hitachi | ZX40U-3U | 1185401 |
| Hitachi | ZX40U-5A | 4671390 |
| Hitachi | ZX40U-5A | 1185401 |
| Hitachi | ZX48U-3 | 4671390 |
| Hitachi | ZX48U-3 | 1185401 |
| Hitachi | ZX48U-3 CLR | 4671390 |
| Hitachi | ZX48U-3F | 4671390 |
| Hitachi | ZX48U-3F | 1185401 |
| Hitachi | ZX48U-5A | 4671390 |
| Hitachi | ZX48U-5A | 1185401 |
| Hitachi | ZX50 | 4628892 |
| Hitachi | ZX50U | 4403500 |
| Hitachi | ZX50U | 4433991 |
| Hitachi | ZX50U-2 | 4628892 |
| Hitachi | ZX50U-2 | 0922101 |
| Hitachi | ZX50U-3 | 4671390 |
| Hitachi | ZX50U-3 | 1185401 |
| Hitachi | ZX50U-3F | 4671390 |
| Hitachi | ZX50U-3F | 1185401 |
| Hitachi | ZX50U-3U | 4671390 |
| Hitachi | ZX50U-3U | 1185401 |
| Hitachi | ZX50U-5A | 4671390 |
| Hitachi | ZX50U-5A | 1185401 |
| Hitachi | ZX50U-5N | 4671390 |
| Hitachi | ZX50U-5N | 1185401 |
| Hitachi | ZX52U-3 | 4671390 |
| Hitachi | ZX52U-3 | 1185401 |
| Hitachi | ZX52U-3F | 4671390 |
| Hitachi | ZX52U-3F | 1185401 |
| Hitachi | ZX55UR | 4671390 |
| Hitachi | ZX55UR-2 | 4628892 |
| Hitachi | ZX55UR-2 | 0922101 |
| Hitachi | ZX55UR-2D | 4628892 |
| Hitachi | ZX55UR-2D | 0922101 |
| Hitachi | ZX55UR-2DU | 4628892 |
| Hitachi | ZX55UR-2DU | 0922101 |
| Hitachi | ZX55UR-2U | 4628892 |
| Hitachi | ZX55UR-2U | 0922101 |
| Hitachi | ZX55UR-3 | 4671390 |
| Hitachi | ZX55UR-3 | 1185401 |
| Hitachi | ZX55UR-3D | 4671390 |
| Hitachi | ZX55UR-3D | 1185401 |
| Hitachi | ZX60 | 4678268 |
| Hitachi | ZX60 | 0922101 |
| Hitachi | ZX60USB-3 | 4671390 |
| Hitachi | ZX60USB-3 | 1185401 |
| Hitachi | ZX60USB-3F | 4671390 |
| Hitachi | ZX60USB-3F | 1185401 |
| Hitachi | ZX60USBNA-3 | 4671390 |
| Hitachi | ZX60USBNA-3 | 1185401 |
| Hitachi | ZX65USB-3F | 4671390 |
| Hitachi | ZX65USB-3F | 1185401 |
| Hitachi | ZX65USB-5A | 4671390 |
| Hitachi | ZX75US-3 | 9290867 |
| Hitachi | ZX75US-3 | 4678748 |
| Hitachi | ZX75US-3 | 9291582 |
| Hitachi | ZX80 | 9224123 |