Leading source for Hyundai Final Drives
Need a final drive for your Hyundai excavator or mini-excavator? Look no further than Summit Tractor Parts! With our extensive selection of Hyundai final drives and travel motors, we're confident that we have the perfect fit for your model. Our FDC final drives boast unparalleled performance and quality, all at aftermarket prices! Plus, each one comes with a 2-year warranty, so you can rest easy knowing they can go the distance.
If you prefer to recondition your parts, we've got you covered as well. Our huge array of OEM and aftermarket spare parts will help you get your repairs done quickly and cost-effectively. And if you prefer not to do the work alone, we even offer a 'repair and return' service.
Ready to take advantage of our excellent selection? Use the 'Final Drive Finder' tool below to find your options and create a quote request. We'll respond promptly with a quote and get your excavator up and running in no time!
Call us today at 866-695-0970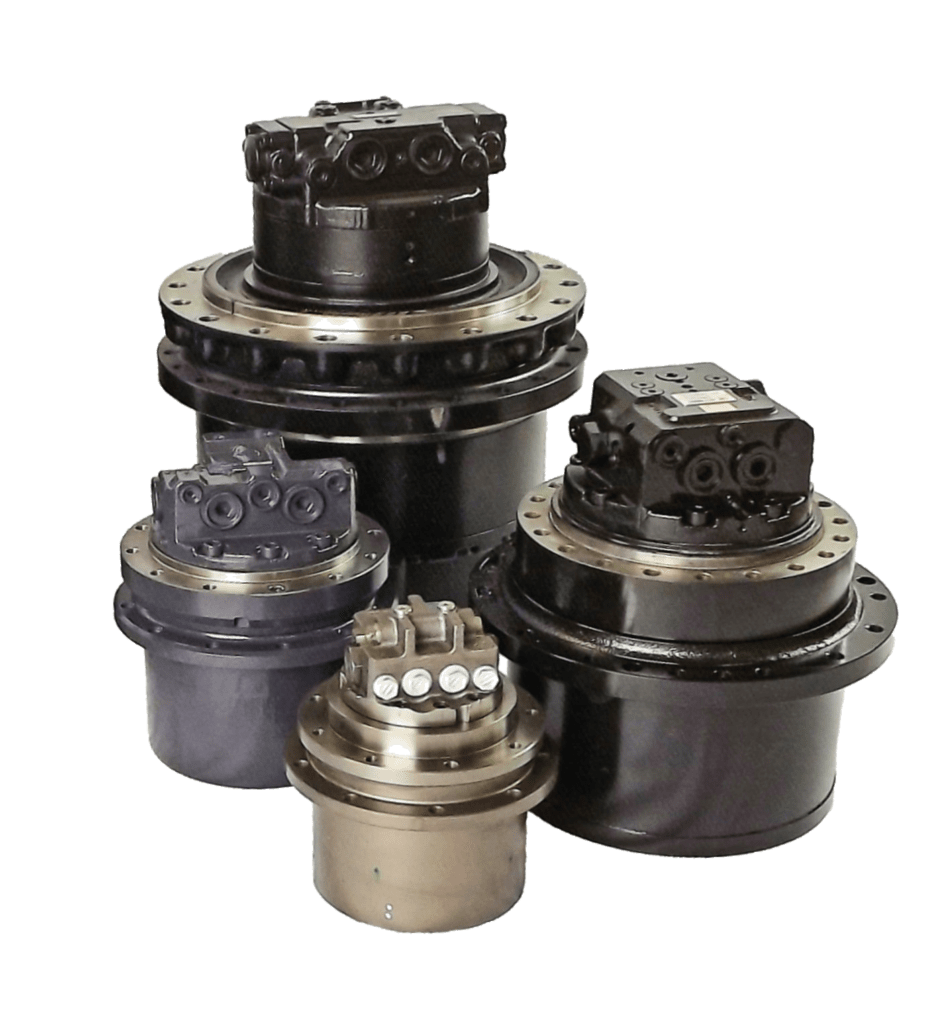 Looking for a different part?
Summit Tractor Parts is committed to supporting the following list of models with FDC final drives, travel motors, and repair parts. If you need any assistance identifying the correct final drive for your machine, please use the "FDC Final Drive Finder" above or give us a call.
| | | |
| --- | --- | --- |
| Hyundai | 305LC-7 | 31N8-40011 |
| Hyundai | 305LC-7 | XJCK-00081 |
| Hyundai | 305LC-7 | 31N8-40012 |
| Hyundai | 33HDLL | 31E9-00030 |
| Hyundai | 33HDLL | 3550D-01A |
| Hyundai | 33HDLL | 33822J-02A |
| Hyundai | 39HDRB | 31EH-0003 |
| Hyundai | 39HDRB | 3560BX073 |
| Hyundai | 39HDRB | KDB172-172J325 |
| Hyundai | 42HDLL | 31EH-0003 |
| Hyundai | 42HDLL | 3560BX073 |
| Hyundai | 42HDLL | KDB172-172J325 |
| Hyundai | HX145 LCR | 39Q4-40100 |
| Hyundai | HX380L | 31QA-40042 |
| Hyundai | R110-7 | 31N3-40010 |
| Hyundai | R110-7 | 31N3-40040 |
| Hyundai | R110-7 | 31N3-40030 |
| Hyundai | R110-7 | XKAH-01459 |
| Hyundai | R110-7 | XKAY-01867 |
| Hyundai | R110-7 | XKAY-01868 |
| Hyundai | R110-7A | 31N3-40040 |
| Hyundai | R110-7A | 31N3-40030 |
| Hyundai | R110-7A | XKAH-01459 |
| Hyundai | R110-7A | XKAY-01867 |
| Hyundai | R110-7A | XKAY-01868 |
| Hyundai | R110M-7/A | XKAH-00901 |
| Hyundai | R110M-7/A | XKAH-00870 |
| Hyundai | R110M-7/A | 31N5-40071BG |
| Hyundai | R110M-7A | 31N5-40061BG |
| Hyundai | R110M-7A | 31N5-40081BG |
| Hyundai | R125LCR-9A | 38Q4-40200 |
| Hyundai | R130LC-3 | 31E6-0004 |
| Hyundai | R130LC-3 | 31E6-42000 |
| Hyundai | R130LC-3 | 412B1001-0000 |
| Hyundai | R130LC-3 | 412B1003-1000 |
| Hyundai | R130LCD-3 | 31E6-42000 |
| Hyundai | R130LCD-3 | 412B1001-0000 |
| Hyundai | R130LCD-3 | 412B1003-1000 |
| Hyundai | R130LCM-3 | 31EL-40010 |
| Hyundai | R130LCM-3 | 31EL-00030 |
| Hyundai | R130LCM-3 | 67181000-04 |
| Hyundai | R130LCM-3 | 31EL-00020 |
| Hyundai | R140LC-7 | 31E6-42000 |
| Hyundai | R140LC-7 | 31E6-42000BG |
| Hyundai | R140LC-7 | 31N4-43040 |
| Hyundai | R140LC-7 | 31EL-40010 |
| Hyundai | R140LC-7 | XKAY-01999 |
| Hyundai | R140LC-7 | XKAH-00367 |
| Hyundai | R140LC-7 | XKAY-01997 |
| Hyundai | R140LC-7 | XKAH-00322 |
| Hyundai | R140LC-7A | 31E6-42000BG |
| Hyundai | R140LC-7A | 31N4-43040 |
| Hyundai | R140LC-7A | 31EL-40010 |
| Hyundai | R140LC-7A | XKAY-01999 |
| Hyundai | R140LC-7A | XKAH-00367 |
| Hyundai | R140LC-7A | XKAY-01997 |
| Hyundai | R140LC-7A | XKAH-00322 |
| Hyundai | R140LC-9 | 31Q4-40030 |
| Hyundai | R140LC-9 | 31Q4-40040 |
| Hyundai | R140LC-9 | XKAH-01458 |
| Hyundai | R140LC-9 | XKAY-01869 |
| Hyundai | R140LC-9 | XKAH-01182 |
| Hyundai | R140LC-9A | 31Q4-40030 |
| Hyundai | R140LC-9S | 31Q4-40030 |
| Hyundai | R140LC-9S | 31Q4-40040 |
| Hyundai | R140LC-9S | XKAH-01458 |
| Hyundai | R140LC-9S | XKAY-01869 |
| Hyundai | R140LC-9S | XKAH-01182 |
| Hyundai | R140LC-9S HIGH & WIDE | 31Q5-42050 |
| Hyundai | R140LCM-7 | 31N5-40061 |
| Hyundai | R140LCM-7 | 31N5-40061BG |
| Hyundai | R140LCM-7 | 31N5-40081BG |
| Hyundai | R140LCM-7 | 31EL-40010 |
| Hyundai | R140LCM-7 | 31N5-40060 |
| Hyundai | R140LCM-7 | XKAH-00474 |
| Hyundai | R140LCM-7 | XKAH-00901 |
| Hyundai | R140LCM-7 | 31N6-40041BG |
| Hyundai | R140LCM-7 | XKAH-00481 |
| Hyundai | R140LCM-7 | XKAH-00870 |
| Hyundai | R140LCM-7 | 31N5-40071BG |
| Hyundai | R140LCM-7A | 31N5-40081BG |
| Hyundai | R140LCM-7A | 31N5-40060BG |
| Hyundai | R140LCM-7A | 31N5-40061BG |
| Hyundai | R140LCM-7A | 31N5-40081BG |
| Hyundai | R140LCM-7A | XKAH-00901 |
| Hyundai | R140LCM-7A | 31N6-40041BG |
| Hyundai | R140LCM-7A | XKAH-00870 |
| Hyundai | R140LCM-7A | 31N5-40071BG |
| Hyundai | R145CR-9 | 31Q4-40030 |
| Hyundai | R145CR-9 | 31Q4-40040 |
| Hyundai | R145CR-9 | XKAH-01458 |
| Hyundai | R145CR-9 | XKAY-01869 |
| Hyundai | R145CR-9 | XKAH-01182 |
| Hyundai | R15-7 | XJDH-02819 |
| Hyundai | R160LC-3 | 31EG-42000 |
| Hyundai | R160LC-3 | 718860 |
| Hyundai | R160LC-7 | 31N5-40010BG |
| Hyundai | R160LC-7 | 31N5-40010 |
| Hyundai | R160LC-7 | 31N5-40010BG |
| Hyundai | R160LC-7 | XKAH-00367 |
| Hyundai | R160LC-7 | XKAH-00622 |
| Hyundai | R160LC-7A | 31N5-40010BG |
| Hyundai | R160LC-7A | XKAH-00367 |
| Hyundai | R160LC-7A | XKAH-00622 |
| Hyundai | R160LC-9 | 31Q5-42050 |
| Hyundai | R160LC-9S | 31Q5-42050 |
| Hyundai | R16-7 | XJDH-02819 |
| Hyundai | R16-9 | 31MJ-40030 |
| Hyundai | R180LC-3 | 31EL-40010 |
| Hyundai | R180LC-3 | 716678 |
| Hyundai | R180LC-3 | 31EL-00030 |
| Hyundai | R180LC-3 | 719118 |
| Hyundai | R180LC-3 | 31EL-00020 |
| Hyundai | R180LC-7 | 31N5-40060 |
| Hyundai | R180LC-7 | 31N5-40081BG |
| Hyundai | R180LC-7 | 31N5-40061 |
| Hyundai | R180LC-7 | 31N5-40061BG |
| Hyundai | R180LC-7 | 31N5-42000 |
| Hyundai | R180LC-7 | XKAH-00901 |
| Hyundai | R180LC-7 | SBTR22-1-00-3 |
| Hyundai | R180LC-7 | XKAH-00474 |
| Hyundai | R180LC-7 | XKAH-00870 |
| Hyundai | R180LC-7 | XKAH-00481 |
| Hyundai | R180LC-7A | 31N5-40060BG |
| Hyundai | R180LC-7A | 31N5-40081BG |
| Hyundai | R180LC-7A | 31N5-40061BG |
| Hyundai | R180LC-7A | XKAH-00901 |
| Hyundai | R180LC-7A | 31N6-40041 |
| Hyundai | R180LC-7A | XKAH-00870 |
| Hyundai | R180LC-7A | 31N5-40071BG |
| Hyundai | R180LC-9 | 31Q5-42050 |
| Hyundai | R180LC-9S | 31Q5-42050 |
| Hyundai | R180NLC-7 | 31N6-40040 |
| Hyundai | R180NLC-7 | 31N5-40070 |
| Hyundai | R200LC | E131-0445 |
| Hyundai | R200LC | E131-1072 |
| Hyundai | R200LC | 610B1000-0200 |
| Hyundai | R200LC | E131-0609 |
| Hyundai | R200LC | 614B2000-0000 |
| Hyundai | R200LCM | E131-1072 |
| Hyundai | R200LCM | E131-0609 |
| Hyundai | R200NLC-3 | 31EL-40010 |
| Hyundai | R200NLC-3 | 718494 |
| Hyundai | R200NLC-3 | 719118 |
| Hyundai | R210 ECONO | 31EM-40010 |
| Hyundai | R210 ECONO | 703791 |
| Hyundai | R210 ECONO | 703793A |
| Hyundai | R210LC | E131-1072 |
| Hyundai | R210LC | E131-0609 |
| Hyundai | R210LC-3 | 31EM-40010 |
| Hyundai | R210LC-3 | 31N6-40010 |
| Hyundai | R210LC-3 | 716678A |
| Hyundai | R210LC-3 | 703791 |
| Hyundai | R210LC-3 | 703793 |
| Hyundai | R210LC-3 HIGH CHASSIS | 31E1-0010 |
| Hyundai | R210LC-3 HIGH CHASSIS | 703791 |
| Hyundai | R210LC-3 HIGH CHASSIS | 703793A |
| Hyundai | R210LC-3 LL | 31E1-00100 |
| Hyundai | R210LC-3 LL | 703791 |
| Hyundai | R210LC-3 LL | 703793A |
| Hyundai | R210LC-3H | 31EM-40010 |
| Hyundai | R210LC-3H | 31N6-40010 |
| Hyundai | R210LC-3H | 31N6-40011 |
| Hyundai | R210LC-3H | 31EM-40011 |
| Hyundai | R210LC-3H | 703791 |
| Hyundai | R210LC-3H | 716678A |
| Hyundai | R210LC-3H | XKAH-00452 |
| Hyundai | R210LC-3H | XKAH-00455 |
| Hyundai | R210LC-7 | 31N6-40060 |
| Hyundai | R210LC-7 | 31N6-40060BG |
| Hyundai | R210LC-7 | 31N6-40011 |
| Hyundai | R210LC-7 | 31N6-40050 |
| Hyundai | R210LC-7 | 31N6-40051 |
| Hyundai | R210LC-7 | 31N6-40051BG |
| Hyundai | R210LC-7 | 31N6-40010 |
| Hyundai | R210LC-7 | XKAH-00901 |
| Hyundai | R210LC-7 | XKAH-00312 |
| Hyundai | R210LC-7 | 31N6-40030 |
| Hyundai | R210LC-7 | 31N6-40031 |
| Hyundai | R210LC-7 | 31N6-40031BG |
| Hyundai | R210LC-7 | XKAH-01043 |
| Hyundai | R210LC-7 | XKAH-00373 |
| Hyundai | R210LC-7 HIGH WALKER | 31EM-40011 |
| Hyundai | R210LC-7 HIGH WALKER | XKAH-00452 |
| Hyundai | R210LC-7 HIGH WALKER | XKAH-00455 |
| Hyundai | R210LC-7A | 31N6-40050BG |
| Hyundai | R210LC-7A | 31N6-40051BG |
| Hyundai | R210LC-7A | 31N6-40040BG |
| Hyundai | R210LC-7A | 31N6-40041BG |
| Hyundai | R210LC-7A | 31N6-40030BG |
| Hyundai | R210LC-7A | 31N6-40031BG |
| Hyundai | R210LC-7H | 31N6-40060BG |
| Hyundai | R210LC-7H | 31N6-40060 |
| Hyundai | R210LC-7H | 31N6-40050 |
| Hyundai | R210LC-7H | 31N6-40051 |
| Hyundai | R210LC-7H | 31N6-40051BG |
| Hyundai | R210LC-7H | XKAH-00901 |
| Hyundai | R210LC-7H | 31N6-40040 |
| Hyundai | R210LC-7H | 31N6-40041 |
| Hyundai | R210LC-7H | 31N6-40041BG |
| Hyundai | R210LC-7H | XKAH-01043 |
| Hyundai | R210LC-7H | 31N6-40030 |
| Hyundai | R210LC-7H | 31N6-40031 |
| Hyundai | R210LC-7H | 31N6-40031BG |
| Hyundai | R210LC-7H OPTION | 31N6-40051BG |
| Hyundai | R210LC-7H OPTION | 31N6-40041 |
| Hyundai | R210LC-7H OPTION | 31N6-40031BG |
| Hyundai | R210LC-9 | 31Q6-40030 |
| Hyundai | R210LC-9 | 39Q6-40100 |
| Hyundai | R210NLC-7 | 31N6-40051 |
| Hyundai | R210NLC-7 | 31N6-40011 |
| Hyundai | R210NLC-7 | 31N6-40050 |
| Hyundai | R210NLC-7 | 31N6-40041 |
| Hyundai | R210NLC-7 | XKAH-00312 |
| Hyundai | R210NLC-7 | 31N6-40040 |
| Hyundai | R210NLC-7 | 31N6-40031 |
| Hyundai | R210NLC-7 | XKAH-00373 |
| Hyundai | R210NLC-7 | 31N6-40030 |
| Hyundai | R210NLC-7A | 31N6-40050 |
| Hyundai | R210NLC-7A | 31N6-40051BG |
| Hyundai | R210NLC-7A | 31N6-40041BG |
| Hyundai | R210NLC-7A | 31N6-40031BG |
| Hyundai | R210NLC-7H | 31N6-40050 |
| Hyundai | R210NLC-7H | 31N6-40051 |
| Hyundai | R210NLC-7H OPTION | 31N6-40050 |
| Hyundai | R210NLC-7H OPTION | 31N6-40051 |
| Hyundai | R210NLC-7H OPTION | 31N6-40040 |
| Hyundai | R210NLC-7H OPTION | 31N6-40041 |
| Hyundai | R210NLC-7H OPTION | 31N6-40030 |
| Hyundai | R210NLC-7H OPTION | 31N6-40031 |
| Hyundai | R22-7 | XJDH-03662 |
| Hyundai | R240LC-3 | 31EN-42000 |
| Hyundai | R240LC-3 | 718494 |
| Hyundai | R240LC-3 | 719113 |
| Hyundai | R250LC-3 | 31EN-42000 |
| Hyundai | R250LC-3 | 31EN-42001 |
| Hyundai | R250LC-3 | 31EN-40010 |
| Hyundai | R250LC-3 | 718494 |
| | | |
| --- | --- | --- |
| Hyundai | R250LC-3 | 718494 |
| Hyundai | R250LC-3 | 671B1000-10 |
| Hyundai | R250LC-3 | 719113 |
| Hyundai | R250LC-3 | 719113 |
| Hyundai | R250LC-3 | 671B2000-03 |
| Hyundai | R250LC-3 HIGH & WIDE | 31E9-00030 |
| Hyundai | R250LC-3 HIGH & WIDE | 31EN-42000 |
| Hyundai | R250LC-3 HIGH CHASSIS | 31E9-00030 |
| Hyundai | R250LC-3 HIGH CHASSIS | 3550D-01A |
| Hyundai | R250LC-3 HIGH CHASSIS | 33822J-02A |
| Hyundai | R250LC-7 | 31N7-40020 |
| Hyundai | R250LC-7 | 31N7-40010 |
| Hyundai | R250LC-7 | XKAH-00487 |
| Hyundai | R250LC-7 | XKAH-00901 |
| Hyundai | R250LC-7 | XKAH-00482 |
| Hyundai | R250LC-7 | XKAH-00870 |
| Hyundai | R250LC-7 HIGH WALKER | 31N8-40050 |
| Hyundai | R250LC-7 HIGH WALKER | 31N8-40011 |
| Hyundai | R250LC-7 HIGH WALKER | 31N8-40070 |
| Hyundai | R250LC-7 HIGH WALKER | XJCK-00081 |
| Hyundai | R250LC-7 HIGH WALKER | 31N8-40060 |
| Hyundai | R250LC-7 HIGH WALKER | XJCK-00123 |
| Hyundai | R250LC-7 HIGH WALKER | 31N8-40050 |
| Hyundai | R250LC-7A | 31N7-40020BG |
| Hyundai | R250LC-7A | XKAH-00901 |
| Hyundai | R250LC-7A | XKAH-00870 |
| Hyundai | R250LC-7A HIGH WALKER | 31N8-40050BG |
| Hyundai | R250LC-9 | 31Q7-40030 |
| Hyundai | R250LC-9 | 31Q7-40040 |
| Hyundai | R250LC-9 | XKAH-01095 |
| Hyundai | R250LC-9 | XKAH-01577 |
| Hyundai | R250LC-9 | XKAH-01124 |
| Hyundai | R250LC-9 HIGH WALKER | 31Q8-40060 |
| Hyundai | R250LC-9S HIGH WALKER | 31Q8-40061 |
| Hyundai | R255LC-3 | 31EN-42000 |
| Hyundai | R255LC-3 | 718494 |
| Hyundai | R255LC-3 | 719113 |
| Hyundai | R260LC-9 | 31Q7-40030 |
| Hyundai | R260LC-9 | 31Q7-40040 |
| Hyundai | R260LC-9S | XKAH-01577 |
| Hyundai | R260LC-9S | XKAH-01124 |
| Hyundai | R280LC | E231-0199 |
| Hyundai | R280LC | Y20800058 |
| Hyundai | R280LC | Y20800057A |
| Hyundai | R28-7 | XJDH-01488 |
| Hyundai | R2900LC | 31N8-40010 |
| Hyundai | R2900LC | XJCK-00072 |
| Hyundai | R2900LC | XJCK-00046 |
| Hyundai | R2900LC-3 | 31E9-42000 |
| Hyundai | R290LC | 31E5-0003 |
| Hyundai | R290LC | 3550BX067 |
| Hyundai | R290LC | 33522-ABB325A |
| Hyundai | R290LC-3 | 31E9-00030 |
| Hyundai | R290LC-3 | 31E5-0003 |
| Hyundai | R290LC-3 | 31E9-00030 |
| Hyundai | R290LC-3 | 3550BX067 |
| Hyundai | R290LC-3 | 3550D-01C |
| Hyundai | R290LC-3 | 33522-ABB325A |
| Hyundai | R290LC-3 | 33822J-02D |
| Hyundai | R290LC-3 LL/RB | 31E5-0003 |
| Hyundai | R290LC-3 LL/RB | 31E9-00030 |
| Hyundai | R290LC-3 LL/RB | 3550D-01A |
| Hyundai | R290LC-3 LL/RB | 3550BX067 |
| Hyundai | R290LC-3 LL/RB | 33822J-02A |
| Hyundai | R290LC-3 LL/RB | 33522-ABB325A |
| Hyundai | R290LC-3H | 31E5-0003 |
| Hyundai | R290LC-3H | 31E9-00030 |
| Hyundai | R290LC-3H | 3550BX067 |
| Hyundai | R290LC-3H | 3550D-01B |
| Hyundai | R290LC-3H | 33522-ABB325A |
| Hyundai | R290LC-3H | 33822J-02C |
| Hyundai | R290LC-7 | 31N8-40010 |
| Hyundai | R290LC-7 | 31N8-40011 |
| Hyundai | R290LC-7 | XJCK-00136 |
| Hyundai | R290LC-7 | XJCK-00081 |
| Hyundai | R290LC-7 | XJCK-00123 |
| Hyundai | R290LC-7A | 31N8-40051 |
| Hyundai | R290LC-7A | 31N8-40050BG |
| Hyundai | R290LC-7A | 31N8-40070BG |
| Hyundai | R290LC-7A | 31N8-40060BG |
| Hyundai | R290LC-7H | 31N8-40051BG |
| Hyundai | R290LC-7H | 31N8-40050 |
| Hyundai | R290LC-7H | 31N8-40070 |
| Hyundai | R290LC-7H | 31N8-40060 |
| Hyundai | R290LC-9 | 31Q8-40061 |
| Hyundai | R300LC-7 | 31N8-40052 |
| Hyundai | R300LC-7 | 31N8-40051BG |
| Hyundai | R300LC-7 | 31N8-40071BG |
| Hyundai | R300LC-7 | 31N8-40061BG |
| Hyundai | R300LC-9S | 31Q8-40061 |
| Hyundai | R300LC-9SH | 31Q8-40061 |
| Hyundai | R305LC-7 | 31N8-40053 |
| Hyundai | R305LC-7 | 31N8-40011 |
| Hyundai | R305LC-7 | 31N8-40052 |
| Hyundai | R305LC-7 | XJCK-00081 |
| Hyundai | R305LC-7 | 31N8-40071BG |
| Hyundai | R305LC-7 | XJCK-00123 |
| Hyundai | R305LC-7 | 31N8-40062 |
| Hyundai | R320LC | 31E5-0003 |
| Hyundai | R320LC | 3550BX067 |
| Hyundai | R320LC | 33522-ABB325A |
| Hyundai | R320LC-3 | 31E5-0003 |
| Hyundai | R320LC-3 | 3550BX067 |
| Hyundai | R320LC-3 | 33522-ABB325A |
| Hyundai | R320LC-7 | 31N8-40053 |
| Hyundai | R320LC-7A | 31N9-40020 |
| Hyundai | R320LC-7A | 31N8-40072 |
| Hyundai | R320LC-7A | 31N9-40032 |
| Hyundai | R320LC-9 | 31Q9-40031 |
| Hyundai | R320LC-9 | 31Q9-40030 |
| Hyundai | R320LC-9 | 31Q9-40020 |
| Hyundai | R320LC-9 | 31Q9-40021 |
| Hyundai | R320LC-9 | 31Q9-40010 |
| Hyundai | R330LC-9A | 31Q9-40031 |
| Hyundai | R330LC-9A | 31Q9-40021 |
| Hyundai | R330LC-9A | 31Q9-40010 |
| Hyundai | R330LC-9S | 31Q9-40031 |
| Hyundai | R330LC-9SH | 31Q9-40031 |
| Hyundai | R33HDLL | 3550D-01A |
| Hyundai | R33HDLL | 33822J-02A |
| Hyundai | R35-7 | XJDH-01995 |
| Hyundai | R360LC-3 | 31EH-0003 |
| Hyundai | R360LC-3 | 31EH-40010 |
| Hyundai | R360LC-3 | 31EH-0003 |
| Hyundai | R360LC-3 | 3570D-03C |
| Hyundai | R360LC-3 | 3560BX073 |
| Hyundai | R360LC-3 | 33822J-20B |
| Hyundai | R360LC-3 | KDB172-172J325 |
| Hyundai | R360LC-3H | 31EH-0003 |
| Hyundai | R360LC-3H | 3560BX073 |
| Hyundai | R360LC-3H | KDB172-172J325 |
| Hyundai | R360LC-7 | 31NA-40010 |
| Hyundai | R360LC-7 | 31NA-40020 |
| Hyundai | R360LC-7 | 31NA-40020BG |
| Hyundai | R360LC-7 | XKAH-01061 |
| Hyundai | R360LC-7 | XKAH-00939 |
| Hyundai | R360LC-7A | 31NA-40020 |
| Hyundai | R360LC-7A | 31NA-40020BG |
| Hyundai | R360LC-7A | 31NA-40021 |
| Hyundai | R360LC-7A | 31NA-40022 |
| Hyundai | R360LC-7A | 31QA-40040BG |
| Hyundai | R360LC-7A | 31QA-40041BG |
| Hyundai | R360LC-7A | XKAH-01620 |
| Hyundai | R360LC-7A | XKAY-01623 |
| Hyundai | R360LC-7A | XKAH-01617 |
| Hyundai | R36N-7 | XJDH-01995 |
| Hyundai | R370LC-7 | 31QA-40040BG |
| Hyundai | R370LC-7 | 31QA-40041BG |
| Hyundai | R370LC-7 | 31NA-40021 |
| Hyundai | R370LC-7 | 31NA-40022 |
| Hyundai | R370LC-7 | 31NA-40020BG |
| Hyundai | R370LC-7 | 31QA-40041BG |
| Hyundai | R370LC-7 | XKAH-01061 |
| Hyundai | R370LC-7 | XKAY-02027 |
| Hyundai | R370LC-7 | XKAH-01620 |
| Hyundai | R370LC-7 | XKAH-00939 |
| Hyundai | R370LC-7 | XKAY-01623 |
| Hyundai | R370LC-7 | XKAH-01617 |
| Hyundai | R380LC-9 | 31QA-40020 |
| Hyundai | R380LC-9 | 31QA-40040 |
| Hyundai | R380LC-9 | XKAH-01449 |
| Hyundai | R380LC-9 | XKAY-01704 |
| Hyundai | R380LC-9 | XKAH-01438 |
| Hyundai | R380LC-9 | XKAY-01623 |
| Hyundai | R380LC-9SH | 31QA-40040 |
| Hyundai | R380LC-9SH | 31QA-40020 |
| Hyundai | R380LC-9SH | 31QA-40021 |
| Hyundai | R380LC-9SH | XKAY-01704 |
| Hyundai | R380LC-9SH | XKAH-01449 |
| Hyundai | R380LC-9SH | XKAY-01623 |
| Hyundai | R380LC-9SH | XKAH-01438 |
| Hyundai | R450LC-3 | 34E7-02500 |
| Hyundai | R450LC-3 | 34E7-03050 |
| Hyundai | R450LC-3 | 34E7-02490 |
| Hyundai | R450LC-7 | 34E7-02500 |
| Hyundai | R450LC-7 | 34E7-03050 |
| Hyundai | R450LC-7 | 34E7-02490 |
| Hyundai | R450LC-7A | 34E7-02500 |
| Hyundai | R450LC-7A | 34E7-03050 |
| Hyundai | R450LC-7A | 34E7-02490 |
| Hyundai | R480LC-9 | 34E7-02500 |
| Hyundai | R480LC-9 | 34E7-03050 |
| Hyundai | R480LC-9 | 34E7-02490 |
| Hyundai | R480LC-9S | 34E7-02501 |
| Hyundai | R480LC-9S | 34E7-03050 |
| Hyundai | R480LC-9S | 34E7-03051 |
| Hyundai | R480LC-9S | 34E7-02500 |
| Hyundai | R480LC-9S | 34E7-02490 |
| Hyundai | R500LC-7 | 34E7-02500 |
| Hyundai | R500LC-7 | 34E7-03050 |
| Hyundai | R500LC-7 | 34E7-02490 |
| Hyundai | R500LC-7A | 34E7-02500 |
| Hyundai | R500LC-7A | 34E7-03050 |
| Hyundai | R500LC-7A | 34E7-02490 |
| Hyundai | R520LC-9 | 34E7-02500 |
| Hyundai | R520LC-9 | 34E7-03050 |
| Hyundai | R520LC-9 | 34E7-02490 |
| Hyundai | R55-3 | 31M5-60011 |
| Hyundai | R55-3 | 31M6-60010 |
| Hyundai | R55-3 | 972B1000-00 |
| Hyundai | R55-3 | HE2B00132*B |
| Hyundai | R55-7 | 31M8-40010 |
| Hyundai | R55-7 | 31M8-40020 |
| Hyundai | R55-7 | 31M8-40021 |
| Hyundai | R55-7 | XKAH-00822 |
| Hyundai | R55-7 | XKAY-01862 |
| Hyundai | R55-7 | XKAH-00753 |
| Hyundai | R55-7 | XKAY-01861 |
| Hyundai | R55-7A | 31M8-40021 |
| Hyundai | R55-7A | 31M8-40010 |
| Hyundai | R55-7A | 31M8-40020 |
| Hyundai | R55-7A | XKAY-01862 |
| Hyundai | R55-7A | XKAH-00822 |
| Hyundai | R55-7A | XKAY-01861 |
| Hyundai | R55-7A | XKAH-00753 |
| Hyundai | R55-9 | 31M8-40020GG |
| Hyundai | R55-9 | 31M8-40021GG |
| Hyundai | R55-9 | 31M8-40010GG |
| Hyundai | R55-9 | XKAH-00822 |
| Hyundai | R55-9 | XKAH-00753 |
| Hyundai | R60-9S | 31M8-40021GG |
| Hyundai | R60-9S | 31M8-40010GG |
| Hyundai | R60-9S | XKAY-01862 |
| Hyundai | R60-9S | XKAH-00822 |
| Hyundai | R60-9S | XKAY-01861 |
| Hyundai | R60-9S | XKAH-00753 |
| Hyundai | R60CR-9 | 31M8-40020GG |
| Hyundai | R60CR-9 | 31M8-40021GG |
| Hyundai | R60CR-9 | 31M8-40010GG |
| Hyundai | R60CR-9 | XKAH-00822 |
| Hyundai | R60CR-9 | XKAH-00753 |
| Hyundai | R75-7 | XJDH-01749 |
| Hyundai | R80-7 | 31N1-40010 |
| Hyundai | R80-7 | 31N1-40011 |
| Hyundai | R80-7 | XKAY-01864 |
| Hyundai | R80-7A | 31N1-40011 |
| Hyundai | R80-7A | 31N1-40010 |
| Hyundai | R80-7A | XKAY-01864 |
| Hyundai | Robex 500 | Robex500-FD |