Your new source for IHI Final Drives
Hey there! Struggling to find a final drive for your excavator or mini excavator? No worries, we're here to help! Summit Tractor Parts offers an extensive selection of IHI final drives and travel motors that will match most models Our FDC final drives guarantee you the best performance and quality at affordable prices! Moreover, they come with a full 2-year warranty to give you confidence in their durability.
If you prefer reconditioning, we have plenty of OEM and aftermarket spare parts readily available to handle your repairs economically and efficiently. Repair and return service is also available if you don't want to do it yourself.
Feeling excited? Click the 'Final Drive Finder' below to explore your options and request a quote. We'll get back to you pronto, and your excavator will be good as new in no time!
Call us today at 866-695-0970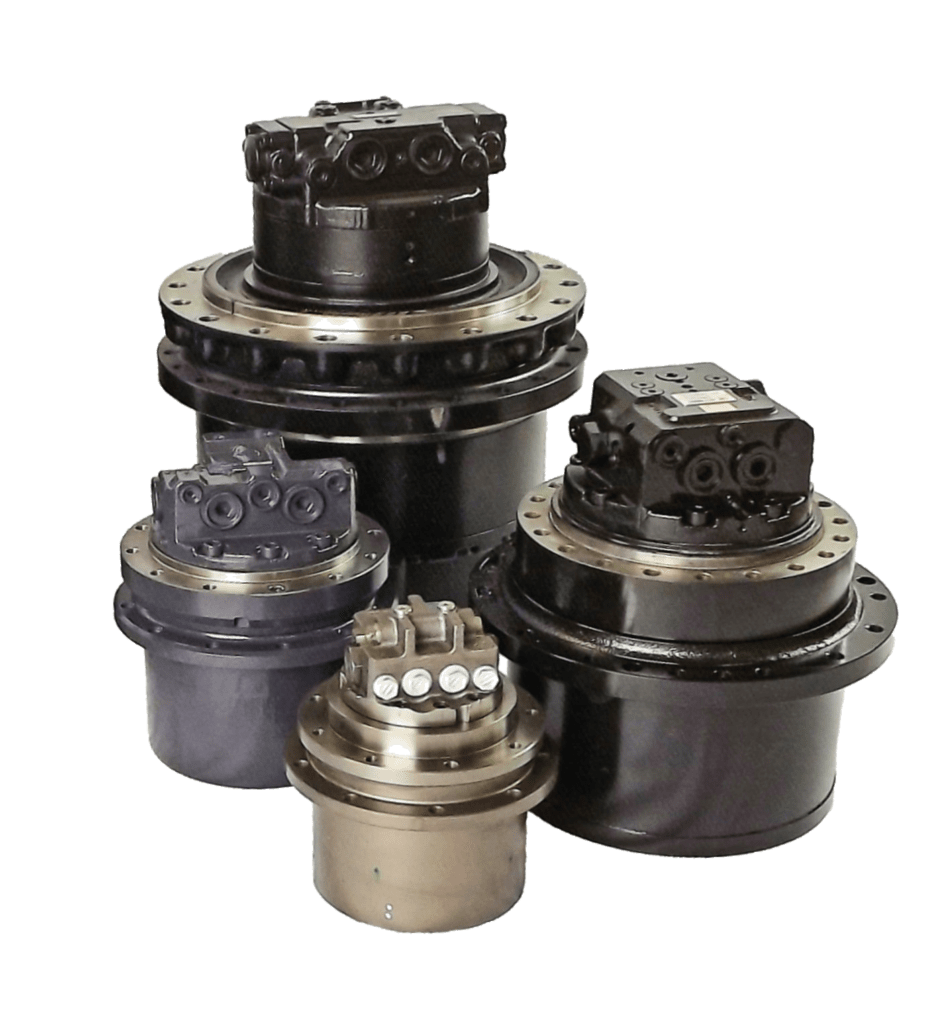 Looking for a different part?
Summit Tractor Parts is committed to supporting the following list of models with FDC final drives, travel motors, and repair parts. If you need any assistance identifying the correct final drive for your machine, please use the "FDC Final Drive Finder" above or give us a call.
| | | |
| --- | --- | --- |
| IHI | 10G | 0753666UA |
| IHI | 12G | 0753666UA |
| IHI | 14G | 0753666UA |
| IHI | 14NX |   |
| IHI | 15J | 0757617UA |
| IHI | 15J | 0757629UA |
| IHI | 15J | 0757695UA |
| IHI | 15NX | 0781138UA |
| IHI | 15NX2 | 0781181UA |
| IHI | 16N | 0781138UA |
| IHI | 16NXT | 0781138UA |
| IHI | 16VXT | 0781138UA |
| IHI | 16VXT | 78113891 |
| IHI | 17NE | 0781138UA |
| IHI | 17VXT | 0781138UA |
| IHI | 17VXT | 78113891 |
| IHI | 18J | 0757695UA |
| IHI | 18J | 0757629UA |
| IHI | 18NXT | 0781138UA |
| IHI | 19VXT | 0781138UA |
| IHI | 19VXT | 78113891 |
| IHI | 20JX | 0757698UA |
| IHI | 25NX | 0781173UA |
| IHI | 25VX | 0781173UA |
| IHI | 28J | 0757612UA |
| IHI | 28N | 0781173UA |
| IHI | 28N2 | 0781173UA |
| IHI | 28N3 | 0781287UA |
| IHI | 30F | 0753562UA |
| IHI | 30J | 0757611UA |
| IHI | 30NX | 0781147UA |
| IHI | 30NX | 0781126UA |
| IHI | 30NX-2 | 0781229UA |
| IHI | 30NX-2 | 078117391 |
| IHI | 30V4 | 0781377UA |
| IHI | 30VX | 0781217UA |
| IHI | 30VX | 0781229UA |
| IHI | 30VX | 078117391 |
| IHI | 30Z | 0757740UA |
| IHI | 35J | 0753786UA |
| IHI | 35N | 0781147UA |
| IHI | 35NQ |   |
| IHI | 35NX | 0781127UA |
| | | |
| --- | --- | --- |
| IHI | 35NX2 | 0781127UA |
| IHI | 35NX-2 | 0781127UA |
| IHI | 35V4 | 0781377UA |
| IHI | 35VX | 0781127UA |
| IHI | 38UJ | 0757631UA |
| IHI | 40JX | 0757765UA |
| IHI | 40JX-2 |   |
| IHI | 40NX | 0781144UA |
| IHI | 40VX3 | 0781298UA |
| IHI | 40VXL | 0781298UA |
| IHI | 45J |   |
| IHI | 45NX | 0781144UA |
| IHI | 45NX-2 | 0781144UA |
| IHI | 45V4 | 0781372UA |
| IHI | 50F | 0750825UA |
| IHI | 50G | 0753641UA |
| IHI | 50G | 075364193 |
| IHI | 50G | 075364181 |
| IHI | 50NS | 0781298UA |
| IHI | 50T | 0753502UA |
| IHI | 50T | 075350291 |
| IHI | 50VX | 0781263UA |
| IHI | 55J | 0753788UA |
| IHI | 55J | 075378891 |
| IHI | 55J-2 | 0753788UA |
| IHI | 55N | 0781170UA |
| IHI | 55N2 | 0781301UA |
| IHI | 55N3 | 0781301UA |
| IHI | 55V4 | 0781372UA |
| IHI | 55V4 | 0781372UA |
| IHI | 55VX | 0781263UA |
| IHI | 55VX3 | 0781263UA |
| IHI | 65NX | 0781214UA |
| IHI | 65VX | 0781214UA |
| IHI | 65VX2 | 0781214UA |
| IHI | 68NS | 0781301UA |
| IHI | 68NS | 078130192 |
| IHI | 80NX | 0781149UA |
| IHI | 80NX | 078114992 |
| IHI | 80NX | 078114991 |
| IHI | 80VX3 | 0781345UA |
| IHI | IC30 | 0781133UA |
| IHI | IS-40G | 0753681UA |