The largest selection of JCB Final Drives
Hey there! Are you in need of a final drive for your excavator or compact track loader? Look no further than Summit Tractor Parts! Our selection of JCB final drives and travel motors are perfect for just about any model and will provide the best performance and quality on the market. We also offer FDC final drives with a 2-year warranty so you can have peace of mind that they will last.
If you prefer to recondition your parts, we have a vast selection of OEM and aftermarket spare parts available to help you complete your repairs quickly and cost-effectively. And hey, we even offer a 'repair and return' service if you're not feeling up to the task.
Ready to start your final drive search? Check out the 'Final Drive Finder' tool below to find the correct part for your machine and create a custom quote. With Summit Tractor Parts, you can be confident that your equipment will be up and running in no time!
Call us today at 866-695-0970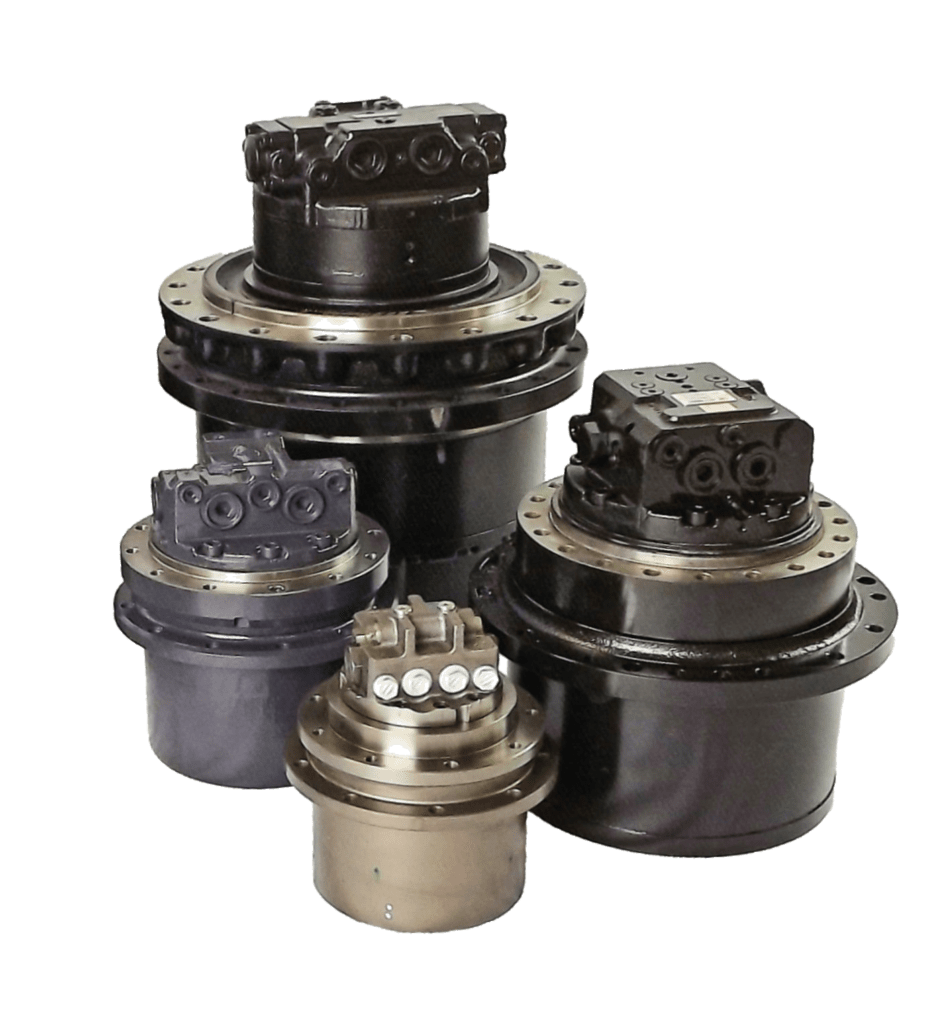 Looking for a different part?
Summit Tractor Parts is committed to supporting the following list of models with FDC final drives, travel motors, and repair parts. If you need any assistance identifying the correct final drive for your machine, please use the "FDC Final Drive Finder" above or give us a call.
| | | |
| --- | --- | --- |
| JCB | 801.4 | 20/904500 |
| JCB | 801.5 | 20/925367 |
| JCB | 802 | 20/906610 |
| JCB | 802.4 | 20/906610 |
| JCB | 802.7 | 20/901800 |
| JCB | 802.7 | 20/901840 |
| JCB | 803 | 20/901800 |
| JCB | 803 | 20/901810 |
| JCB | 803 | 20/901840 |
| JCB | 811 | 05/901900 |
| JCB | 811 | 20/600700 |
| JCB | 812 | 05/902100 |
| JCB | 814 | 05/902100 |
| JCB | 814 | 20/600700 |
| JCB | 817 | 05/902000 |
| JCB | 820 | 05/902000 |
| JCB | 8014 | 20/925544 |
| JCB | 8015 | 20/925367 |
| JCB | 8015 | 20/925365 |
| JCB | 8016 | 20/925365 |
| JCB | 8016 | 20/925543 |
| JCB | 8016 | 20/925544 |
| JCB | 8016 | 20/951662 |
| JCB | 8017 | 20/925365 |
| JCB | 8018 | 20/925365 |
| JCB | 8018 | 20/925543 |
| JCB | 8018 | 20/951662 |
| JCB | 8020 | 20/925831 |
| JCB | 8052 | 20/951560 |
| JCB | 8056 | 20/925564 |
| JCB | 8056 | 20/952411 |
| JCB | 8060 | 20/925261 |
| JCB | 8060 | 20/925564 |
| JCB | 8060 | 20/950743 |
| JCB | 8060 | 20/952411 |
| JCB | 8080 | 20/925448 |
| JCB | 8080 | 20/951289 |
| JCB | 8080 | 20/951311 |
| JCB | 100C-1 | 334/U0772 |
| JCB | 100C-1 | 335/F2543 |
| JCB | 48Z-1 | 20/925682 |
| JCB | 51R-1 | 20/925682 |
| JCB | 57C-1 | 20/925682 |
| JCB | 8008 CTS | 20/925544 |
| JCB | 8018 CTS | 20/925543 |
| JCB | 8018 CTS | 20/951662 |
| JCB | 8018 SUPER | 20/925543 |
| JCB | 8018 SUPER | 20/951662 |
| JCB | 802 | 20/906600 |
| JCB | 802 SUPER | 20/925240 |
| JCB | 802.4 | 20/906600 |
| JCB | 802.4 SUPER | 20/925240 |
| JCB | 802.7 PLUS | 20/901800 |
| JCB | 802.7 SUPER | 20/925259 |
| JCB | 802.7 SUPER | 20/925260 |
| JCB | 802.7 SUPER | 20/901810 |
| JCB | 802.7 SUPER | 20/901840 |
| JCB | 8025 ZTS | 20/925691 |
| JCB | 8025 ZTS | 333/R0164 |
| JCB | 8025 ZTS | 333/L1472 |
| JCB | 8025 ZTS | 333/L1481 |
| JCB | 8025 ZTS | 20/925692 |
| JCB | 8026 CTS | 333/S0071 |
| JCB | 8027Z | 20/925259 |
| JCB | 8029 CTS | 333/S0071 |
| JCB | 803 PLUS | 20/925259 |
| JCB | 803 PLUS | 20/901800 |
| JCB | 803 PLUS | 20/925260 |
| JCB | 803 SUPER | 20/925259 |
| JCB | 803 SUPER | 20/925260 |
| JCB | 803 SUPER | 20/925259 |
| JCB | 8030 ZTS | 20/925691 |
| JCB | 8030 ZTS | 20/925692 |
| JCB | 8032 ZTS | 20/925371 |
| JCB | 8032 ZTS | 20/951204 |
| JCB | 8032Z | 20/925371 |
| JCB | 8032Z | 20/951204 |
| JCB | 8035 ZTS | 333/S0071 |
| JCB | 804 SUPER | 20/925260 |
| JCB | 8040 ZTS | 20/925682 |
| JCB | 8045 ZTS | 20/925682 |
| JCB | 8050 ZTS | 20/925682 |
| JCB | 8052 | 20/918200 |
| JCB | 8052 | 20/951287 |
| JCB | 8055 RTS | 332/P2511 |
| JCB | 8055 RTS | 333/G0251 |
| JCB | 8055 ZTS | 332/P2511 |
| JCB | 8055 ZTS | 333/G0251 |
| JCB | 8061 CTS | 20/925564 |
| JCB | 8061 CTS | 20/952411 |
| JCB | 8065 RTS | 20/925564 |
| JCB | 8065 RTS | 20/952411 |
| JCB | 812 SUPER | 05/902700 |
| JCB | 812 SUPER | 20/601000 |
| JCB | 814 SUPER | 05/902100 |
| JCB | 814S R'MASTER | 05/902100 |
| JCB | 816 SUPER | 05/902000 |
| JCB | 818 R'MASTER | 05/902000 |
| JCB | 818 SUPER | 05/902000 |
| JCB | 820 SUPER | 05/902000 |
| JCB | 820D | 05/902000 |
| JCB | 85Z-1 | 334/U0772 |
| JCB | 85Z-1 | 335/F2543 |
| JCB | 86C-1 | 334/U0772 |
| JCB | 86C-1 | 335/F2543 |
| JCB | 90Z-1 | 334/U0772 |
| JCB | 90Z-1 | 335/F2543 |
| JCB | JS110 | KMA0961 |
| JCB | JS110 | JNA0221 |
| JCB | JS110 | LNM0323 |
| JCB | JS110 | 05/903837 |
| JCB | JS115 AUTO | JNA0221 |
| JCB | JS115 AUTO | 332/J1841 |
| JCB | JS115 AUTO | 332/E5626 |
| JCB | JS115 AUTO | 332/E5654 |
| JCB | JS115 AUTO | 05/903837 |
| JCB | JS120 | 229/02682 |
| JCB | JS120 | 332/E5626 |
| JCB | JS120 | 550/43527 |
| JCB | JS130 | KNA0381 |
| JCB | JS130 | KNA0630 |
| JCB | JS130 | JNA0221 |
| JCB | JS130 | JLA0369 |
| JCB | JS130 | LNM0323 |
| JCB | JS130 | LNM0591 |
| JCB | JS130 | LNM0594 |
| JCB | JS130 | 05/903837 |
| JCB | JS130 | 05/903832 |
| JCB | JS130 AUTO | 20/925463 |
| JCB | JS130 AUTO | 20/951655 |
| JCB | JS130 HD | JLA0369 |
| JCB | JS130 HD | 05/903832 |
| JCB | JS130LC | 20/925737 |
| JCB | JS130LC | 332/J1841 |
| JCB | JS130LC | 332/E5626 |
| JCB | JS130LC | 332/E5654 |
| JCB | JS130LC | 332/D8598 |
| JCB | JS130LC D | 333/J5852 |
| JCB | JS130LC T4 | 333/J5852 |
| JCB | JS140 UPGRADE | 229/02682 |
| JCB | JS140 UPGRADE | 332/E5626 |
| JCB | JS140 UPGRADE | 332/E5680 |
| JCB | JS145 | 20/925463 |
| JCB | JS145 | 20/951655 |
| JCB | JS145HD | JLA0369 |
| JCB | JS145HD | 05/903832 |
| JCB | JS145LC | 332/J3238 |
| JCB | JS145LC | 333/K0684 |
| JCB | JS145LC | 332/K1192 |
| JCB | JS145LC | 332/E5626 |
| JCB | JS145LC | 332/E5680 |
| JCB | JS145LC | 332/H3935 |
| JCB | JS145LCTAB | 333/J5851 |
| JCB | JS150 | KLA0072 |
| JCB | JS150LC | LNM0397 |
| JCB | JS150LC | LNM0395 |
| JCB | JS160 | KLA0113 |
| JCB | JS160 | JLA0327 |
| JCB | JS160 | 20/925532 |
| JCB | JS160 | JLA0369 |
| JCB | JS160 | LNM0447 |
| JCB | JS160 | 05/202800 |
| JCB | JS160 | LNM0446 |
| JCB | JS160 | 20/925391 |
| JCB | JS160 | 05/903832 |
| JCB | JS160 T3 | 20/925532 |
| JCB | JS160 T3 | 332/J4432 |
| JCB | JS160 T3 | 333/E2705 |
| JCB | JS160 T3 | 20/903832 |
| JCB | JS160LC | 332/J4432 |
| JCB | JS160LC | 333/E2705 |
| JCB | JS160LCTAB | 332/J4432 |
| JCB | JS160LCTAB | 333/E2705 |
| JCB | JS180 | JLA0369 |
| JCB | JS180 | 05/903832 |
| JCB | JS180 AUTO | 20/925532 |
| JCB | JS180 AUTO | 05/903832 |
| JCB | JS180 T3 | 20/925532 |
| JCB | JS180 T3 | 332/J4432 |
| JCB | JS180 T3 | 333/E2705 |
| JCB | JS180 T3 | 05/903832 |
| JCB | JS180LC | 332/J4432 |
| JCB | JS180LC | 333/E2705 |
| JCB | JS180LC T4 | 332/J4432 |
| JCB | JS180LCTAB | 332/J4432 |
| JCB | JS180LCTAB | 333/E2705 |
| JCB | JS180NLC | 332/J4432 |
| JCB | JS180NLC | 333/E2705 |
| JCB | JS190 | 20/925532 |
| JCB | JS190 | 20/925318 |
| JCB | JS190 | 333/K0684 |
| JCB | JS190 | 332/K1192 |
| JCB | JS190 | 05/903832 |
| JCB | JS190 | 05/903899 |
| JCB | JS190 | 332/H3935 |
| JCB | JS190 T3 | 20/925532 |
| JCB | JS190 T3 | 05/903832 |
| JCB | JS200 | KRA0917 |
| JCB | JS200 | 20/925318 |
| JCB | JS200 | 332/K1192 |
| | | |
| --- | --- | --- |
| JCB | JS200 | 333/K0684 |
| JCB | JS200 | JG0RA012 |
| JCB | JS200 | JRA0264 |
| JCB | JS200 | JRA0121 |
| JCB | JS200 | LNM0258 |
| JCB | JS200 | JRA0121 |
| JCB | JS200 | LNM0272 |
| JCB | JS200 | JRA0124 |
| JCB | JS200 | 05/903838 |
| JCB | JS200 | 332/H3935 |
| JCB | JS200 L REACH | 20/925318 |
| JCB | JS200 TIER 3 | 20/925318 |
| JCB | JS200L | JRA0264 |
| JCB | JS200L | JRA0121 |
| JCB | JS200L | JRA0124 |
| JCB | JS200LC | 20/925318 |
| JCB | JS200LC | KRA0917 |
| JCB | JS200LC | JG0RA012 |
| JCB | JS200LC | LNM0258 |
| JCB | JS200LC | JRA0121 |
| JCB | JS200LC | LNM0272 |
| JCB | JS200LC | 05/903838 |
| JCB | JS200LC BR | 332/K1192 |
| JCB | JS200LC BR | 332/H3935 |
| JCB | JS200LC T2 | 332/K1192 |
| JCB | JS200LC T2 | 332/H3935 |
| JCB | JS200LCBT2 | 332/K1192 |
| JCB | JS200LCBT2 | 332/H3935 |
| JCB | JS200LR | 20/925318 |
| JCB | JS200NLCT2 | 332/K1192 |
| JCB | JS200NLCT2 | 332/H3935 |
| JCB | JS200S T2 | 332/K1192 |
| JCB | JS200S T2 | 332/H3935 |
| JCB | JS200SC CH | 229/02188 |
| JCB | JS200SC CH | 229/02187 |
| JCB | JS200SC CH | 550/43696 |
| JCB | JS210 | JRA0264 |
| JCB | JS210 | 20/925318 |
| JCB | JS210 | 332/K1192 |
| JCB | JS210 | 333/K0684 |
| JCB | JS210 | JRA0121 |
| JCB | JS210 | JRA0124 |
| JCB | JS210 | 332/H3935 |
| JCB | JS210 ASIA | 229/02188 |
| JCB | JS210 ASIA | 229/02187 |
| JCB | JS210 ASIA | 550/43696 |
| JCB | JS210LC | 20/925318 |
| JCB | JS210LC | 229/02188 |
| JCB | JS210LC | 332/K1192 |
| JCB | JS210LC | 229/02187 |
| JCB | JS210LC | 550/43696 |
| JCB | JS210LC | 332/H3935 |
| JCB | JS220 | JRA0264 |
| JCB | JS220 | 20/925318 |
| JCB | JS220 | 332/K1192 |
| JCB | JS220 | 333/K0684 |
| JCB | JS220 | JRA0121 |
| JCB | JS220 | JRA0124 |
| JCB | JS220 | 332/H3935 |
| JCB | JS220 CHINA | 229/02188 |
| JCB | JS220 CHINA | 229/02187 |
| JCB | JS220 CHINA | 550/43696 |
| JCB | JS220 L REACH | 20/925318 |
| JCB | JS220HD | 20/925318 |
| JCB | JS220LC CH | 229/02188 |
| JCB | JS220LC CH | 229/02187 |
| JCB | JS220LC CH | 550/43696 |
| JCB | JS220LC T2 | 332/K1192 |
| JCB | JS220LC T2 | 332/H3935 |
| JCB | JS220LR | 332/K1192 |
| JCB | JS220LR | 333/K0684 |
| JCB | JS220LR | 20/925318 |
| JCB | JS220LR | 332/H3935 |
| JCB | JS220LR TIER 3 | 20/925318 |
| JCB | JS220S T2 | 332/K1192 |
| JCB | JS220S T2 | 332/H3935 |
| JCB | JS220SC CH | 229/02188 |
| JCB | JS220SC CH | 229/02187 |
| JCB | JS220SC CH | 550/43696 |
| JCB | JS220XD | 332/K1192 |
| JCB | JS220XD | 333/K0684 |
| JCB | JS220XD | 20/925318 |
| JCB | JS220XD | 332/H3935 |
| JCB | JS235 | 20/925318 |
| JCB | JS235 | 333/K0684 |
| JCB | JS235 | 332/K1192 |
| JCB | JS235 | 332/H3935 |
| JCB | JS235 T3 | 20/925318 |
| JCB | JS235HD | 20/925318 |
| JCB | JS240 | JBA0167 |
| JCB | JS240 | 20/925465 |
| JCB | JS240 | 332/K1192 |
| JCB | JS240 | 333/K0684 |
| JCB | JS240 | JRA0121 |
| JCB | JS240 | JBA0055 |
| JCB | JS240 | 20/925520 |
| JCB | JS240 | 332/H3935 |
| JCB | JS240LC | KBA0676 |
| JCB | JS240LC | LNM0366 |
| JCB | JS240LC | LNM0359 |
| JCB | JS240LC T4 | 332/K1192 |
| JCB | JS240LC T4 | 332/H3935 |
| JCB | JS240NLC T4 | 332/K1192 |
| JCB | JS240NLC T4 | 333/K0684 |
| JCB | JS240NLC T4 | 332/H3935 |
| JCB | JS240SC T4 | 332/K1192 |
| JCB | JS240SC T4 | 332/H3935 |
| JCB | JS240SC T4 | 333/K0684 |
| JCB | JS240SC T4 | 332/H3935 |
| JCB | JS260 | JBA0167 |
| JCB | JS260 | 333/K0684 |
| JCB | JS260 | 20/925465 |
| JCB | JS260 | 332/K1192 |
| JCB | JS260 | JRA0121 |
| JCB | JS260 | JBA0055 |
| JCB | JS260 | 332/H3935 |
| JCB | JS260 | 20/925520 |
| JCB | JS260LC T4 | 332/K1192 |
| JCB | JS260LC T4 | 333/K0684 |
| JCB | JS260LC T4 | 332/H3935 |
| JCB | JS260LR T4 | 332/K1192 |
| JCB | JS260LR T4 | 333/K0684 |
| JCB | JS260LR T4 | 332/H3935 |
| JCB | JS260LXD T4 | 333/K0684 |
| JCB | JS260LXD T4 | 332/K1192 |
| JCB | JS260LXD T4 | 332/H3935 |
| JCB | JS260NLC T4 | 332/K1192 |
| JCB | JS260NLC T4 | 333/K0684 |
| JCB | JS260NLC T4 | 332/H3935 |
| JCB | JS260NXD T4 | 333/K0684 |
| JCB | JS260NXD T4 | 332/K1192 |
| JCB | JS260NXD T4 | 332/H3935 |
| JCB | JS260SC T4 | 332/K1192 |
| JCB | JS260SC T4 | 333/K0684 |
| JCB | JS260SC T4 | 332/H3935 |
| JCB | JS260SXD T4 | 333/K0684 |
| JCB | JS260SXD T4 | 332/K1192 |
| JCB | JS260SXD T4 | 332/H3935 |
| JCB | JS260XD | 332/K1192 |
| JCB | JS260XD | 20/925465 |
| JCB | JS260XD | 332/H3935 |
| JCB | JS260XD | 20/925520 |
| JCB | JS290 | 20/925645 |
| JCB | JS290 | 332/G1889 |
| JCB | JS330 | JSA0073 |
| JCB | JS330 | 05/202500 |
| JCB | JS330 | 05/903857 |
| JCB | JS330XD | JSA0073 |
| JCB | JS330XD | 05/202500 |
| JCB | JS330XD | 05/903857 |
| JCB | JS360 | 05/204600 |
| JCB | JS360 | 332/D1987 |
| JCB | JS360 AUTO | 05/204600 |
| JCB | JS360 AUTO | 332/D1987 |
| JCB | JS370 | 05/204600 |
| JCB | JS370 | 332/D1987 |
| JCB | JS460 | 20/925550 |
| JCB | JS460 | 50/100058 |
| JCB | JS460 | 50/100057 |
| JCB | JS460 | 50/100144 |
| JCB | JS460 | 05/204000 |
| JCB | JS70 | KAA0963 |
| JCB | JS70 | KAA0715 |
| JCB | JS70 | LNM0331 |
| JCB | JS70 | LNM0609 |
| JCB | JS70 | LNM0334 |
| JCB | JS81 | 332/P4178 |
| JCB | JS81 | 332/Y6716 |
| JCB | JS81 I | 332/P4178 |
| JCB | JS81 I | 332/Y6716 |
| JCB | JS81 I | 332/Y6746 |
| JCB | JZ140 | 20/925463 |
| JCB | JZ140 | JLA0369 |
| JCB | JZ140 | 20/951655 |
| JCB | JZ140 | 05/903832 |
| JCB | JZ140WM | 332/J3238 |
| JCB | JZ140WM | 332/E5626 |
| JCB | JZ140WM | 332/E5680 |
| JCB | JZ235 | 20/925318 |
| JCB | JZ235 | 05/903899 |
| JCB | JZ235 LCD | 332/K1192 |
| JCB | JZ235 LCD | 332/H3935 |
| JCB | JZ255 | 20/925465 |
| JCB | JZ255 | 20/925520 |
| JCB | JZ70 | 215/11303 |
| JCB | JZ70 | JAA0018 |
| JCB | JZ70 | 20/950742 |
| JCB | JZ70 | 20/950743 |
| JCB | MICRO | 20/925470 |
| JCB | MICRO 8008 | 20/925544 |
| JCB | MICRO PLUS | 20/925470 |
| JCB | MICRO PLUS | 20/925544 |
| JCB | MICRO PLUS-T2 | 20/925470 |
| JCB | T180 | 20/925553 |
| JCB | T180 | 20/925571 |
| JCB | TD10 | 50/200086 |
| JCB | TD10 | 50/200147 |
| JCB | TD7 | 50/200086 |
| JCB | TD7 | 50/200147 |