Specializing in John Deere Final Drives
Looking for a final drive for your excavator or compact track loader? Look no further than Summit Tractor Parts, your one-stop shop for all your heavy machinery needs! Our extensive inventory of John Deere final drives and travel motors ensures there's an option for every model. Our FDC final drives offer unbeatable quality and performance at prices well below OEM. Plus, every purchase comes with a reassuring 2-year warranty, so you can be sure you're investing in a product that's built to last.
Looking to save even more money by repairing that failed final drive? Our OEM and aftermarket spare parts are budget-friendly and easily accessible, and we even offer a convenient 'repair and return' service if you don't have the time or knowledge to do the repairs yourself.
Ready to get started? The 'Final Drive Finder' tool below makes finding the right final drive for your machine quick and easy. Get your excavator back up and running in no time with the help of Summit Tractor Parts!
Call us today at 866-695-0970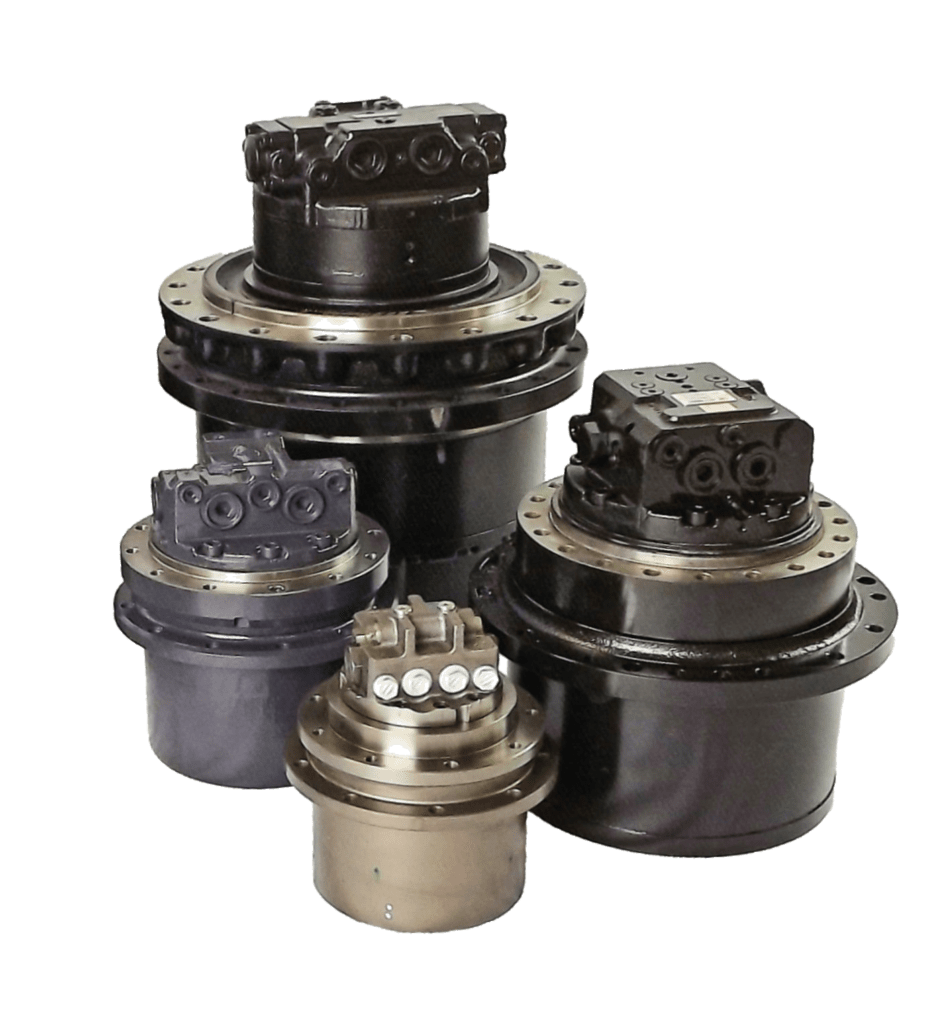 Looking for a different part?
Summit Tractor Parts is committed to supporting the following list of models with FDC final drives, travel motors, and repair parts. If you need any assistance identifying the correct final drive for your machine, please use the "FDC Final Drive Finder" above or give us a call.
| | | |
| --- | --- | --- |
| John Deere | 15 | AT111860 |
| John Deere | 25 | AT110503 |
| John Deere | 30 | AT110504 |
| John Deere | 50 | T110816 |
| John Deere | 50 | 20450-53399 |
| John Deere | 120C | 9180731 |
| John Deere | 120D | 9196238 |
| John Deere | 160C LC | 4447928 |
| John Deere | 160C LC | 4466663 |
| John Deere | 160LC | AT183684 |
| John Deere | 160LC | AT218124 |
| John Deere | 17D | 4654367 |
| John Deere | 27 ZTS | 4420996 |
| John Deere | 27C ZTS | 4420996 |
| John Deere | 27D | 4691488 |
| John Deere | 35C ZTS | 4466796 |
| John Deere | 35C ZTS | 0727001 |
| John Deere | 35D | 4691489 |
| John Deere | 35D | 4614213 |
| John Deere | 35G | 4691489 |
| John Deere | 35ZTS | TH4420998 |
| John Deere | 35ZTS | 0727001 |
| John Deere | 50 ZTS | 4433991 |
| John Deere | 50 ZTS | 4605108 |
| John Deere | 50C ZTS | 4433991 |
| John Deere | 50C ZTS | 4605108 |
| | | |
| --- | --- | --- |
| John Deere | 50D | 4671390 |
| John Deere | 50D | 4628892 |
| John Deere | 50D | 0922101 |
| John Deere | 50D | 1185401 |
| John Deere | 50G | 4671390 |
| John Deere | 50G | 1185401 |
| John Deere | 60D | 4671390 |
| John Deere | 60D | 1185401 |
| John Deere | 60G | 4671390 |
| John Deere | 60G | 1185401 |
| John Deere | 653G HD | AT191376 |
| John Deere | 653G HD | AT191377 |
| John Deere | 690E | AT147222 |
| John Deere | 690E | AT147221 |
| John Deere | 70D | TH110966 |
| John Deere | 75D | 9272923 |
| John Deere | 75D | 9290867 |
| John Deere | 75D | 4678748 |
| John Deere | 75D | 9291582 |
| John Deere | 75G | 9272923 |
| John Deere | 75G | 9290867 |
| John Deere | 85D | 9272923 |
| John Deere | 85D | 9290867 |
| John Deere | 85D | 4678748 |
| John Deere | 85D | 9291582 |
| John Deere | 85G | 9272923 |