Reliable provider of Kubota Final Drives
Hey there! If you're in need of a new final drive for your excavator or compact track loader, look no further than Summit Tractor Parts! We have an extensive selection of Kubota final drives and travel motors that will work with almost any model. Our FDC final drives offer exceptional performance and quality at aftermarket prices, and they even come with a 2-year warranty for your peace of mind.
And if you prefer to recondition parts, we're here to help! We offer a wide range of OEM and aftermarket spare parts to make any necessary repairs happen quickly and affordably. And if you need a little extra help, we even provide a convenient 'repair and return' service.
Excited to get started? Simply check out our 'Final Drive Finder' tool below to view your options and create a quote request. We'll respond right away with a quote, and before you know it, your machine will be back in the dirt!
Call us today at 866-695-0970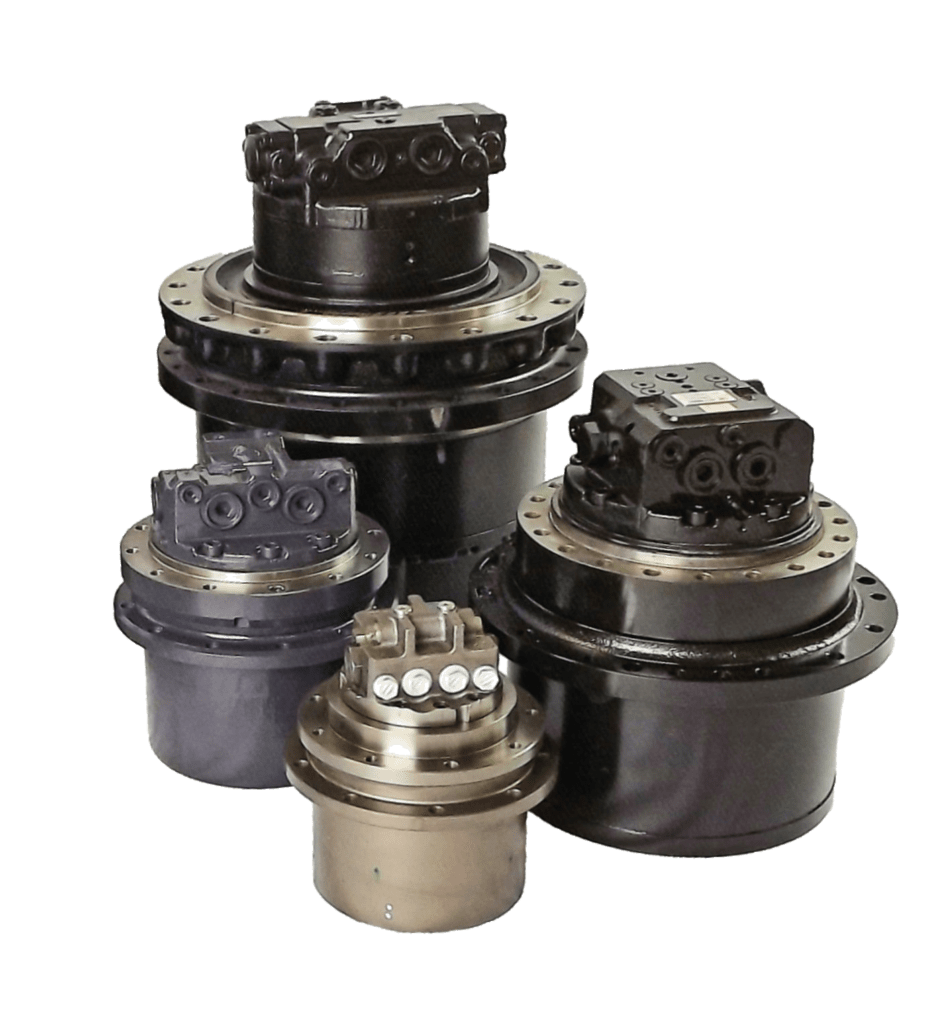 Looking for a different part?
Summit Tractor Parts is committed to supporting the following list of models with FDC final drives, travel motors, and repair parts. If you need any assistance identifying the correct final drive for your machine, please use the "FDC Final Drive Finder" above or give us a call.
| | | |
| --- | --- | --- |
| Kubota | KH52SR | KH52SR-FD |
| Kubota | KO22 | RC101-6160-0 |
| Kubota | KO24 | KO24-FD |
| Kubota | KO25 | RC101-61600 |
| Kubota | KO27 | KO27-FD |
| Kubota | KO28 | KO28-FD |
| Kubota | KO30 | KO30-FD |
| Kubota | KO35 | KO35-FD |
| Kubota | KO40 | 68678-61290 |
| Kubota | KO40 | 20450-53425 |
| Kubota | KO45 | RD308-61290 |
| Kubota | KO45 | 20450-53474 |
| Kubota | KX012 | 68151-61290 |
| Kubota | KX015-4 | RG038-61290 |
| Kubota | KX018-4 | RG158-61390 |
| Kubota | KX019-4 | RG158-61390 |
| Kubota | KX021 | KX021-FD |
| Kubota | KX024 | KX024-FD |
| Kubota | KX027 | KX027-FD |
| Kubota | KX027-4 | RC157-61290 |
| Kubota | KX040-4 | RD158-61603 |
| Kubota | KX057-4 | RD551-61290 |
| Kubota | KX080-3 | RD809-61290 |
| Kubota | KX080-3 | RD809-61302 |
| Kubota | KX080-3 | RD809-61300 |
| Kubota | KX080-3 | RD809-76100 |
| Kubota | KX080-3 | RD809-76400 |
| Kubota | KX080-3a | RD819-61302 |
| Kubota | KX080-3AB | RD819-61501 |
| Kubota | KX080-3MC | RD819-61302 |
| Kubota | KX080-3T | RD819-61510 |
| Kubota | KX080-3T | RD819-61500 |
| Kubota | KX080-3T | RD819-61512 |
| Kubota | KX080-4 | RD819-61512 |
| Kubota | KX080-4 | RD819-61513 |
| Kubota | KX101 | 68651-61290 |
| Kubota | KX101-3 | RG511-61800 |
| Kubota | KX101-3 | RG648-61290 |
| Kubota | KX101-3 | RG511-61840 |
| Kubota | KX101-3 ALPHA | RG511-61800 |
| Kubota | KX101-3 ALPHA | RG511-61840 |
| Kubota | KX101-3 ALPHA 2 | RG511-61800 |
| Kubota | KX101-3 ALPHA 2 | RG511-61840 |
| Kubota | KX101-3 ALPHA 3 | RG648-61290 |
| Kubota | KX121-2 | RD108-61600 |
| Kubota | KX121-2 | RG701-61600 |
| Kubota | KX121-2 | RG701-73000 |
| Kubota | KX121-2 SS | RD108-61606 |
| Kubota | KX121-2(H) | RD108-61600 |
| Kubota | KX121-2(H) | RG701-61600 |
| Kubota | KX121-2(H) | RG701-73000 |
| Kubota | KX121-2SS | RD108-61606 |
| Kubota | KX121-3 | RD118-61290 |
| Kubota | KX121-3SS | RD138-61292 |
| Kubota | KX121-3SS T4 | RD148-61290 |
| Kubota | KX121-3ST | RD138-61292 |
| Kubota | KX121-3ST | RD148-61290 |
| Kubota | KX151 | 68678-61290 |
| Kubota | KX161-2 | RD308-61290 |
| Kubota | KX161-2 | RD308-61293 |
| Kubota | KX161-2SS | RD308-61293 |
| Kubota | KX161-3 | RD511-61290 |
| Kubota | KX161-3D | RD538-61290 |
| Kubota | KX161-3SS | RD538-61290 |
| Kubota | KX161-3ST | RD538-61290 |
| Kubota | KX251 | LR001-F5000 |
| Kubota | KX251 Alpha | LR001-C1200 |
| Kubota | KX26-2 ALPHA | RG008-61290 |
| Kubota | KX31 | 68198-61290 |
| Kubota | KX36-2 | RG008-61290 |
| Kubota | KX36-2 ALPHA | RG008-61290 |
| Kubota | KX36-3 | RG038-61290 |
| Kubota | KX41 | 68198-61290 |
| Kubota | KX41 | 69725-61290 |
| Kubota | KX41 | 69725-73000 |
| Kubota | KX41-2 | RG101-61290 |
| Kubota | KX41-2 | RB208-61290 |
| Kubota | KX41-2 | RG108-73000 |
| Kubota | KX41-2 ALPHA | RG108-61290 |
| Kubota | KX41-2 ALPHA | RG108-61270 |
| Kubota | KX41-2 ALPHA | RG108-72000 |
| Kubota | KX41-2 S (V) | RG108-61270 |
| Kubota | KX41-2 S (V) | RG108-61290 |
| Kubota | KX41-2 S (V) | RG108-72000 |
| Kubota | KX41-2 SS | RB228-61270 |
| Kubota | KX41-3 | RB238-61292 |
| Kubota | KX41-3 | RA251-61293 |
| Kubota | KX41-3 | RA251-61291 |
| Kubota | KX41-3 S (V) | RG138-61290 |
| Kubota | KX41-3 S (V) | RG138-61270 |
| Kubota | KX41-3S (V) | RC138-61300 |
| Kubota | KX41-3V | RC138-61300 |
| Kubota | KX61 | 68311-61390 |
| Kubota | KX61 | 68311-13700 |
| Kubota | KX61-2 | RC108-61802 |
| Kubota | KX61-2 | RC101-61600 |
| Kubota | KX61-2 | RG208-61600 |
| | | |
| --- | --- | --- |
| Kubota | KX61-2 ALPHA | RG238-61700 |
| Kubota | KX61-3 | RG248-61290 |
| Kubota | KX61-3 | RG248-61293 |
| Kubota | KX71 | 68311-61390 |
| Kubota | KX71 | 68318-61290 |
| Kubota | KX71 | 68311-13700 |
| Kubota | KX71-2 | RC308-61600 |
| Kubota | KX71-2 | RG408-61600 |
| Kubota | KX71-2 | RG401-73000 |
| Kubota | KX71-2 ALPHA | RG408-61600 |
| Kubota | KX71-2 ALPHA | RG401-73000 |
| Kubota | KX71-3 | RC348-61600 |
| Kubota | KX71-3 | RG448-61290 |
| Kubota | KX71-3S | RC348-61600 |
| Kubota | KX91-2 | RG501-61600 |
| Kubota | KX91-2 | RC408-61600 |
| Kubota | KX91-2 | RC508-61602 |
| Kubota | KX91-2 | RC508-61603 |
| Kubota | KX91-2 | RC408-61602 |
| Kubota | KX91-2 | RG501-73000 |
| Kubota | KX91-2 SS | RC508-61802 |
| Kubota | KX91-2 SS | RC508-61800 |
| Kubota | KX91-2 SS | RC508-61603 |
| Kubota | KX91-3 | RG511-61800 |
| Kubota | KX91-3 | RC411-61804 |
| Kubota | KX91-3 | RG511-61840 |
| Kubota | KX91-3 ALPHA | RG511-61800 |
| Kubota | KX91-3 ALPHA | RG511-61840 |
| Kubota | KX91-3 ALPHA 2 | RG511-61800 |
| Kubota | KX91-3 ALPHA 2 | RG511-61840 |
| Kubota | KX91-3 SS | RC441-61600 |
| Kubota | KX91-3S2 | RC661-61602 |
| Kubota | KX91-3S2 | RC661-61606 |
| Kubota | KX91-3S2 | RC466-61600 |
| Kubota | RX301 | Need |
| Kubota | RX501 |   |
| Kubota | RX503 | RP821-61291 |
| Kubota | RX503 | RP821-61293 |
| Kubota | U15 | RB238-61292 |
| Kubota | U15-3 | RA221-61290 |
| Kubota | U15-3 | RA251-61293 |
| Kubota | U15-3 | RA229-61290 |
| Kubota | U15-3 | RA209-61290 |
| Kubota | U17-3 | RA251-61292 |
| Kubota | U17-3 | RA251-61293 |
| Kubota | U17-3 | RA229-61290 |
| Kubota | U17-3 | RA209-61290 |
| Kubota | U20 | RB401-61290 |
| Kubota | U20-3 | RB411-61290 |
| Kubota | U20-3 | RB411-78120 |
| Kubota | U20-3 Alpha | RB411-61290 |
| Kubota | U20-3 Alpha | RB411-78120 |
| Kubota | U25-3 | RG248-61290 |
| Kubota | U25-3 | RB511-61290 |
| Kubota | U25-3 | RB511-78000 |
| Kubota | U25-3a | RB511-61290 |
| Kubota | U25-3a | RB559-61290 |
| Kubota | U25-3a | RB511-78000 |
| Kubota | U25-3a | RB511-78000 |
| Kubota | U25S | RB511-61290 |
| Kubota | U25S | RB559-61290 |
| Kubota | U25S | RB511-78000 |
| Kubota | U27-4 | RC157-61290 |
| Kubota | U30 | U30-FD |
| Kubota | U30-3 | RG511-61800 |
| Kubota | U30-3 | RG648-61292 |
| Kubota | U30-3 | RG648-61292 |
| Kubota | U30-3 ALPHA 2 | RG511-61800 |
| Kubota | U30-3 ALPHA 2 | RG511-61840 |
| Kubota | U35 | RC411-61804 |
| Kubota | U35 (EU) | RC501-61600 |
| Kubota | U35 (EU) | RC501-61603 |
| Kubota | U35-3 | RG511-61800 |
| Kubota | U35-3 | RG511-61840 |
| Kubota | U35-3 ALPHA | RG511-61800 |
| Kubota | U35-3 ALPHA | RG511-61840 |
| Kubota | U35-3 ALPHA 2 | RG511-61800 |
| Kubota | U35-3 ALPHA 2 | RG511-61840 |
| Kubota | U35-3 ALPHA 3 | RG648-61290 |
| Kubota | U35-3 ALPHA 3 | RG648-61290 |
| Kubota | U35-4 | RC788-61600 |
| Kubota | U35-S2 | RC661-61602 |
| Kubota | U35-S2 | RC661-61606 |
| Kubota | U35S | RC441-61600 |
| Kubota | U35S2 | RC661-61602 |
| Kubota | U45 | RD538-61290 |
| Kubota | U45 | 20450-53438 |
| Kubota | U45 (EU) | RD401-61600 |
| Kubota | U45 (EU) | RD401-61602 |
| Kubota | U45 (EU) | RD401-61605 |
| Kubota | U45S | RD538-61290 |
| Kubota | U45ST | RD538-61290 |
| Kubota | U48-4 | RD451-61600 |
| Kubota | U50-3 ALPHA | RD538-61290 |
| Kubota | U50-3S | RD511-61290 |
| Kubota | U55 | RD551-61290 |
| Kubota | U55-4 | RD551-61290 |
| Kubota | U55-4 | RD568-61290 |