Specialists in Link Belt Final Drives
Looking for Link Belt final drives to get your excavator or mini-excavator back to work? Look no further than Summit Tractor Parts – we have everything you need! Our FDC final drives are known for their exceptional performance and quality and are available at unbeatable aftermarket prices. Plus, with a 2-year warranty, you can trust that our final drives are built to last!
We also offer a wide variety of OEM and aftermarket spare parts for reconditioning your current equipment. And for those who need a little extra help, we offer a 'repair and return' service.
Ready to start your final drive search? Simply check out the 'Final Drive Finder' tool below to find the correct part for your machine and create a custom quote. With Summit Tractor Parts, you can be confident that your equipment will be up and running in no time!
Call us today at 866-695-0970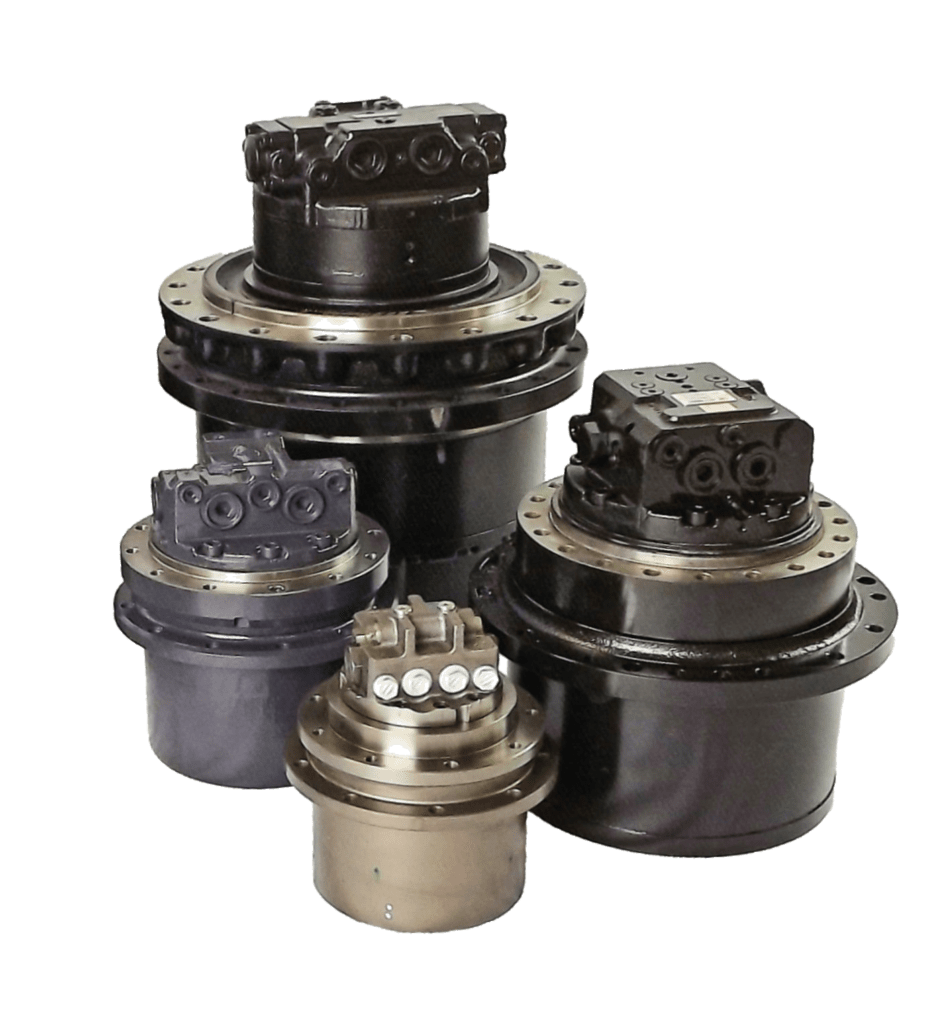 Looking for a different part?
Summit Tractor Parts is committed to supporting the following list of models with FDC final drives, travel motors, and repair parts. If you need any assistance identifying the correct final drive for your machine, please use the "FDC Final Drive Finder" above or give us a call.
| | | |
| --- | --- | --- |
| Link Belt | 130 X2 | KNA10520 |
| Link Belt | 130LX | KNA10460 |
| Link Belt | 130LX | 164693A1 |
| Link Belt | 130LX | LJ013420 |
| Link Belt | 130LX | KNA10460 |
| Link Belt | 135 SPIN ACE | KMA1321 |
| Link Belt | 135 SPIN ACE | LN00072 |
| Link Belt | 135 SPIN ACE | LJ013420 |
| Link Belt | 135 SPIN ACE | KMA1321 |
| Link Belt | 145 X3 | KNA15960 |
| Link Belt | 1600Q | KAA0963 |
| Link Belt | 160LX | KLA0156 |
| Link Belt | 210 LX | KRA1426 |
| Link Belt | 210 X2 | KRA10150 |
| Link Belt | 210 X2 | KRA10150 |
| Link Belt | 210 X2 HD | KBA14420 |
| Link Belt | 210 X2 LF | KRA10150 |
| Link Belt | 210 X2 MH | KBA10290 |
| Link Belt | 210 X2 MH | LN001880 |
| Link Belt | 210LX | KRA1426 |
| Link Belt | 225 SPIN ACE | KBA1024 |
| Link Belt | 225 SPIN ACE | KBA1024 |
| Link Belt | 225 X3 | KBA13690 |
| Link Belt | 235 X3 | KBA14430 |
| Link Belt | 240 LX | KBA10060 |
| Link Belt | 240 X2 | KBA10290 |
| Link Belt | 240 X2 | LN001880 |
| Link Belt | 240 X2 | KBA10290 |
| Link Belt | 240 X2 LF | KBA10290 |
| Link Belt | 240 X2 LF | LN001880 |
| Link Belt | 240LX | KBA10060 |
| Link Belt | 240LX | LN001410 |
| Link Belt | 250 X3 | KBA13690 |
| Link Belt | 250 X4 | KBA14710 |
| Link Belt | 2650Q | KNA0608 |
| Link Belt | 2650Q | KSA0630 |
| Link Belt | 2650Q | KSA0630 |
| Link Belt | 2700Q | KLA0113 |
| Link Belt | 2700Q | KLA0113 |
| Link Belt | 2800Q | KRA1274 |
| Link Belt | 2800Q | KRA1274 |
| Link Belt | 290 X2 | KBA10750 |
| Link Belt | 290 X2 | KBA10750 |
| Link Belt | 290 X2 | LN001980 |
| Link Belt | 290 X2 | LJ014910 |
| Link Belt | 290 X2 | KBA10750 |
| Link Belt | 290 X2 LF | KBA10750 |
| Link Belt | 290 X2 LF | LN001980 |
| Link Belt | 290 X2 LF | LJ014910 |
| Link Belt | 290LX | KBA1137 |
| Link Belt | 290LX | KBA1137 |
| Link Belt | 290LX | KBA1322 |
| Link Belt | 300 X3 | KBA10752 |
| Link Belt | 330LX | KSA10220 |
| Link Belt | 330LX | KSA10220 |
| Link Belt | 3240 | KBA14840 |
| Link Belt | 3400Q | KBA1426 |
| Link Belt | 3400Q | LNM0389 |
| Link Belt | 3400Q | LNM0388 |
| Link Belt | 3400Q | KBA1426 |
| | | |
| --- | --- | --- |
| Link Belt | 3400Q II | KBA0926 |
| Link Belt | 350 X2 | KSA10220 |
| Link Belt | 350 X2 | KSA10220 |
| Link Belt | 350 X2 | LJ001600 |
| Link Belt | 350 X2 | LJ013790 |
| Link Belt | 350 X2 Logger | KSA10640 |
| Link Belt | 350 X3 | KSA13050 |
| Link Belt | 350LX | KSA10220 |
| Link Belt | 350LX | KSA10220 |
| Link Belt | 350X4 | KSA16280 |
| Link Belt | 370LX | KTA1070 |
| Link Belt | 3740 | KSA16280 |
| Link Belt | 4040PHN | KSA10640 |
| Link Belt | 4040RBN | KSA10640 |
| Link Belt | 4040TLN | KSA10640 |
| Link Belt | 4300Q | KSA0977 |
| Link Belt | 460 X2 | KTA10192 |
| Link Belt | 460LX | KTA10192 |
| Link Belt | 4640RBN | KSA10640 |
| Link Belt | 470X3 | KTA11350 |
| Link Belt | 75 Spin Ace | KAA1132 |
| Link Belt | 75 Spin Ace | LN00106 |
| Link Belt | 75 Spin Ace | LJ01025 |
| Link Belt | 75 Spin Ace | KAA1132 |
| Link Belt | 80 SB | KAA1132 |
| Link Belt | 80 SB | LN00106 |
| Link Belt | 80 SB | LJ01018 |
| Link Belt | 80 SB | KAA1132 |
| Link Belt | 80LX | KAA1132 |
| Link Belt | 80LX | LN00106 |
| Link Belt | 80LX | LJ01025 |
| Link Belt | 80LX | KAA1132 |
| Link Belt | LS-1600 | KAA0528 |
| Link Belt | LS-1600 | KAA0528 |
| Link Belt | LS-1600C-II | KAA0715 |
| Link Belt | LS-2650C II | KNA0322 |
| Link Belt | LS-2650C II | LNM0252 |
| Link Belt | LS-2650C II | LNM0273 |
| Link Belt | LS-2650C II | KNA0322 |
| Link Belt | LS-2700C II | KLA0110 |
| Link Belt | LS-2700C II | LNM0397 |
| Link Belt | LS-2700C-II | KLA0010 |
| Link Belt | LS-2700C-II | KLA0072 |
| Link Belt | LS-2800C | KRA0845 |
| Link Belt | LS-2800C | KRA0845 |
| Link Belt | LS-2800C-II | LNM0258 |
| Link Belt | LS-2800C-II | LNM0272 |
| Link Belt | LS-2800C-II | KRA0917 |
| Link Belt | LS-3400A | KBA0501 |
| Link Belt | LS-3400A | LNM0132 |
| Link Belt | LS-3400A | KBA0501 |
| Link Belt | LS-3400C | KBA0501 |
| Link Belt | LS-3400C | LNM0132 |
| Link Belt | LS-3400C | KBA0501 |
| Link Belt | LS-3400C-II | KBA0501 |
| Link Belt | LS-3400C-II | KBA0676 |
| Link Belt | LS-3400C-II | KBA0721 |
| Link Belt | LS-3400C-II | LNM0132 |
| Link Belt | LS-3400C-II | KBA0501 |
| Link Belt | LS-3400C-II | KBA0676 |