The best selection of New Holland Final Drives
Looking for New Holland final drives or travel motors for your excavator or compact track loader? Look no further! Summit Tractor Parts is your go-to source for top-quality, high-performance FDC final drives at aftermarket prices. With our vast selection and 2-year warranty, you can buy with confidence, knowing that our products are built to last.
If you prefer reconditioning, we've got you covered, too. Our selection of OEM and aftermarket spare parts means you can get your repairs done quickly and economically. And if you don't have the time or expertise to do the repairs yourself, no problem – we offer a convenient 'repair and return' service.
Ready to get started? The 'Final Drive Finder' tool below makes it easy to find and price your options. Request a quote today and let's get your machinery back up and running smoothly!
Call us today at 866-695-0970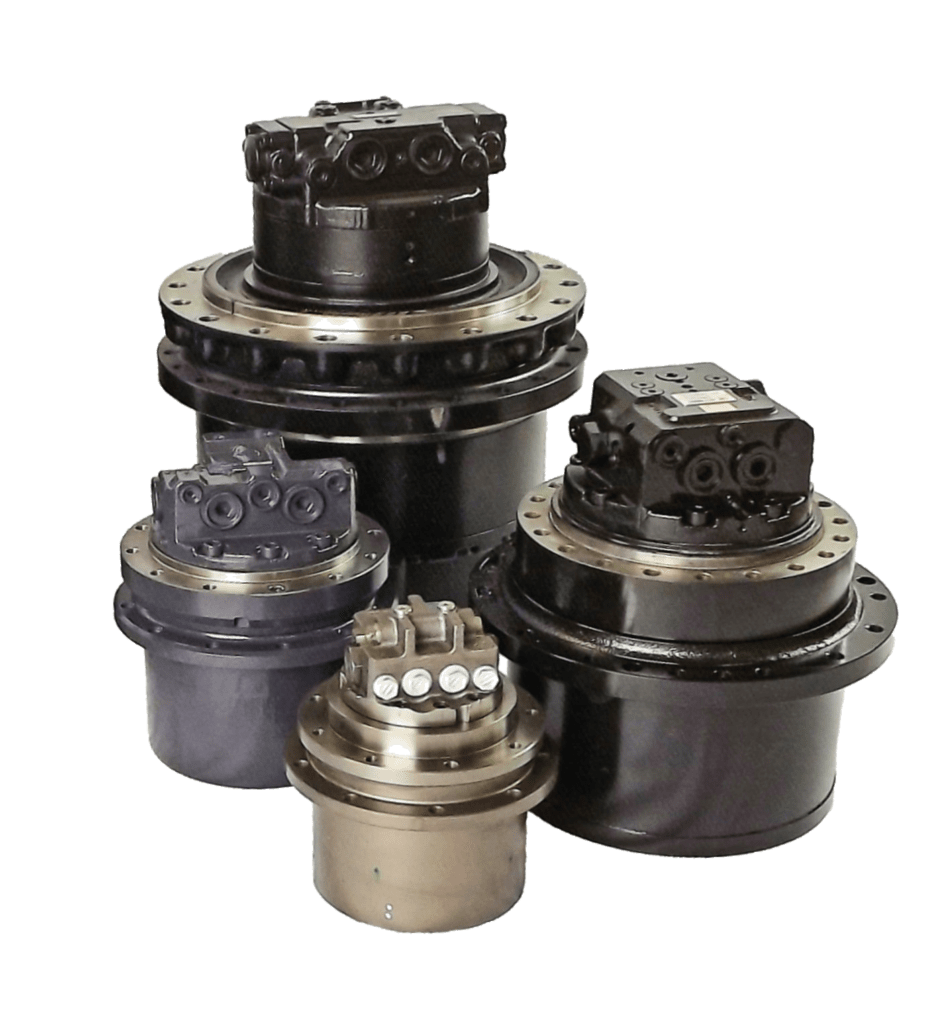 Looking for a different part?
Summit Tractor Parts is committed to supporting the following list of models with FDC final drives, travel motors, and repair parts. If you need any assistance identifying the correct final drive for your machine, please use the "FDC Final Drive Finder" above or give us a call.
| | | |
| --- | --- | --- |
| New Holland | C175 | 87588897 |
| New Holland | C175 | 47923177 |
| New Holland | C185 | 87588897 |
| New Holland | C185 | 47923177 |
| New Holland | C185 | 87447234 |
| New Holland | C190 | 87588897 |
| New Holland | C190 | 47923177 |
| New Holland | C190 | 87447234 |
| New Holland | C227 | 87588897 |
| New Holland | C227 | 47923177 |
| New Holland | C232 | 87588897 |
| New Holland | C232 | 47923177 |
| New Holland | C238 | 87588897 |
| New Holland | C238 | 47923177 |
| New Holland | DC80 | 76590797 |
| New Holland | DC80 | 76598195 |
| New Holland | DC80 | 76593034 |
| New Holland | E115SR | YX15V00003F1 |
| New Holland | E115SR | 72150092 |
| New Holland | E115SR | 87336256 |
| New Holland | E115SR | YX15V00003F1 |
| New Holland | E115SR | 72150092 |
| New Holland | E115SR | YV15V00005F1 |
| New Holland | E115SR | YX15V00003F1 |
| New Holland | E130 | YX15V00003F1 |
| New Holland | E130 | YX15V00003F1 |
| New Holland | E135B | 87727511 |
| New Holland | E135BSR | YY15V00015F1 |
| New Holland | E135SR | 87336256 |
| New Holland | E135SR | YX15V00003F1 |
| New Holland | E135SR | 72150092 |
| New Holland | E135SR | 72150092 |
| New Holland | E135SR | YX15V00003F1 |
| New Holland | E135SR | YV15V00005F1 |
| New Holland | E135SRLC | YX15V00003F1 |
| New Holland | E135SRLC | YV15V00005F1 |
| New Holland | E140CSR | YY15V00015F1 |
| New Holland | E145 | 72214452 |
| New Holland | E145 | 72216459 |
| New Holland | E15 | PE15V00005F1 |
| New Holland | E15 | PE15V01003F1 |
| New Holland | E150 | YY15V00006F2 |
| New Holland | E150B | YY15V00006F2 |
| New Holland | E150BSR | YN53D00008F2 |
| New Holland | E150BSR | YY15V00007F2 |
| New Holland | E150BSR | YY15V00006F2 |
| New Holland | E16B | 72271598 |
| New Holland | E16B | 72275297 |
| New Holland | E175 | 87357868 |
| New Holland | E175 | 72211194 |
| New Holland | E175B | YM15V00007F1 |
| New Holland | E175B | 87357868 |
| New Holland | E175B | 72211194 |
| New Holland | E175C | 84142001 |
| New Holland | E175C | YN15V00067F1 |
| New Holland | E175C | 84152774 |
| New Holland | E175C | YN15V00067S017 |
| New Holland | E18B | PU15V00021F1 |
| New Holland | E18SR | PU15V00021F1 |
| New Holland | E18SR | PU15V00018F1 |
| New Holland | E18SR | PU53D00016F1 |
| New Holland | E195B | YN15V00067F1 |
| New Holland | E195B | 84142692 |
| New Holland | E195B | YN15V00067S017 |
| New Holland | E195B | 84142872 |
| New Holland | E195C | 84142001 |
| New Holland | E195C | 84152774 |
| New Holland | E200SR | YN15V00011F1 |
| New Holland | E200SR | YN53D00008F2 |
| New Holland | E200SR | YN15V00017F1 |
| New Holland | E200SRLC | YN15V00011F1 |
| New Holland | E200SRLC | YN53D00008F2 |
| New Holland | E200SRLC | YN15V00017F1 |
| New Holland | E20-2SR | 72282278 |
| New Holland | E215 | YN15V00011F4 |
| | | |
| --- | --- | --- |
| New Holland | E215 | YN15V00011F2 |
| New Holland | E215 | 72206512 |
| New Holland | E215 | YN53D00008F2 |
| New Holland | E215 | YN15V00017F3 |
| New Holland | E215 | YN15V00017F1 |
| New Holland | E215 | 72210456 |
| New Holland | E215B | YN15V00037F2 |
| New Holland | E215B | YN15V00037F1 |
| New Holland | E215B | LQ20V00020F1 |
| New Holland | E215B | 84142692 |
| New Holland | E215B | YN15V00067F1 |
| New Holland | E215B | LQ15V00020R900 |
| New Holland | E215B | YN15V00067S017 |
| New Holland | E215BJ | YN15V00037F2 |
| New Holland | E215BJ | YN15V00037F2 |
| New Holland | E215BJ LC | YN15V00037F1 |
| New Holland | E215BJ LC | YN15V00037F2 |
| New Holland | E215BLC | 87573484 |
| New Holland | E215BLC | 87602372 |
| New Holland | E215C | YN15V00067F1 |
| New Holland | E215C | 84142001 |
| New Holland | E215C | YN15V00067S017 |
| New Holland | E215C | 84152774 |
| New Holland | E225BSR | YN15V00037F1 |
| New Holland | E225BSRLC | YN15V00037F1 |
| New Holland | E235BSR | LQ20V00020F1 |
| New Holland | E235BSR | LQ15V00020F2 |
| New Holland | E245B | 84129979 |
| New Holland | E245B | LQ15V00031F2 |
| New Holland | E245B | LQ15V00020F3 |
| New Holland | E265B | 84129979 |
| New Holland | E265B | LQ15V00020F4 |
| New Holland | E265B | LQ15V00031F2 |
| New Holland | E265B | LQ15V00020F4 |
| New Holland | E265B | LQ15V00020F3 |
| New Holland | E265C | LQ20V00020F4 |
| New Holland | E265C | LQ15V00031F2 |
| New Holland | E265C NRC | LQ15V00031F2 |
| New Holland | E26B SR | 72282278 |
| New Holland | E27 | PM15V00021F1 |
| New Holland | E27-2SR | 72281630 |
| New Holland | E27B | PM15V00021F1 |
| New Holland | E27BSR | PM15V00021F1 |
| New Holland | E27SR | PM15V00021F1 |
| New Holland | E29B SR | 72281630 |
| New Holland | E30-2 | PX15V00025F1 |
| New Holland | E35 | E35-FD |
| New Holland | E35.2SR | PX15V00025F1 |
| New Holland | E35BSR | PX15V00025F1 |
| New Holland | E385B | LC15V00023F1 |
| New Holland | E385C | LC15V00023F1 |
| New Holland | E45B SR | 72284190 |
| New Holland | E50 | PH15V00012F1 |
| New Holland | E50B SR | 72284190 |
| New Holland | E50SR | PH15V00012F1 |
| New Holland | E55B | 72284190 |
| New Holland | E70BSR | YT15V00012F1 |
| New Holland | E70SR | 72950198 |
| New Holland | E70SR | YT15V00008F1 |
| New Holland | E80BM SR | YT15V00012F1 |
| New Holland | E80M SR | YT15V00012F1 |
| New Holland | EC15 | 73185387 |
| New Holland | EC15 | 84092115 |
| New Holland | EC15 | 73185387 |
| New Holland | EC15 | 84092115 |
| New Holland | EC45 | 84091824 |
| New Holland | EC45 | 2907773 |
| New Holland | EH130 | YX15V00003F2 |
| New Holland | EH130 | YX15V00003F2 |
| New Holland | EH22 | PM15V00015F1 |
| New Holland | EH22 | 72952301 |
| New Holland | EH25 | EH25-FD |
| New Holland | EH27B | PV15V00021F1 |
| New Holland | EH45 | PY15V00009F3 |
| New Holland | EH70 | YT15V00008F1 |