Huge inventory of Volvo Final Drives
Are you looking for top-quality final drives, exceptional performance, and affordable prices? Then look no further because Summit Tractor Parts has everything you need to get back to work. Our vast variety of Volvo final drives and travel motors are specifically designed to fit most every model. Our FDC final drives are built with precision and durability, giving you a smooth and efficient machine with a 2-year warranty for your peace of mind.
If you prefer to recondition your parts, we have a large range of OEM and aftermarket spare parts available, keeping costs low and repairs quick. And if you're feeling a little overwhelmed, we've got you covered with our 'repair and return' service.
Check out our 'Final Drive Finder' tool below to view your options and create a quote request. We'll respond right away with a quote, and before you know it, your machine will be back on its feet.
Call us today at 866-695-0970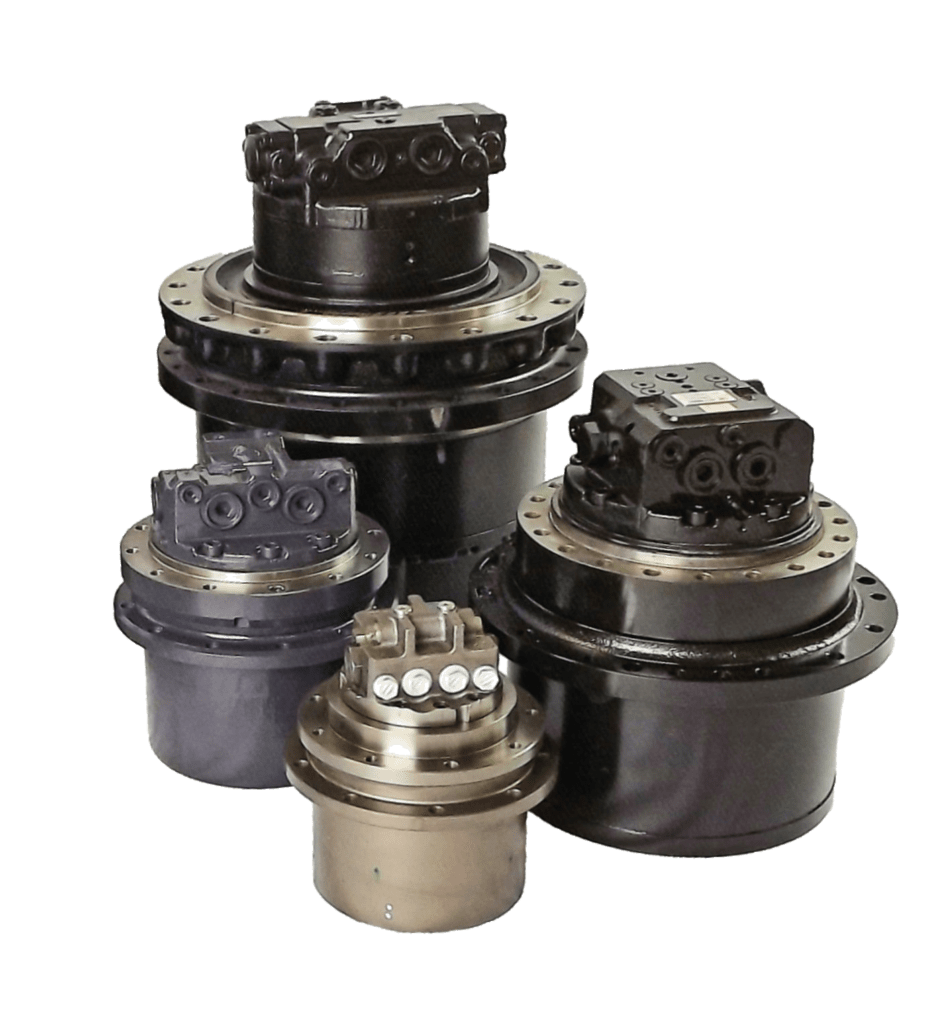 Looking for a different part?
Summit Tractor Parts is committed to supporting the following list of models with FDC final drives, travel motors, and repair parts. If you need any assistance identifying the correct final drive for your machine, please use the "FDC Final Drive Finder" above or give us a call.
| | | |
| --- | --- | --- |
| Volvo | EC13 XR | 11806481 |
| Volvo | EC13 XTV | 11801231 |
| Volvo | EC13 XTV | 11806481 |
| Volvo | EC13 XTV | 11711100 |
| Volvo | EC14 | 11801826 |
| Volvo | EC14 | PJ4890074 |
| Volvo | EC14 | 11712219 |
| Volvo | EC140 | 7117-30011 |
| Volvo | EC140 | 1143-01112 |
| Volvo | EC140B LC | 14528729 |
| Volvo | EC140B LC | 14528729 |
| Volvo | EC140B LC | 14533648 |
| Volvo | EC140B LCM | 14528729 |
| Volvo | EC140B LCM | 14533648 |
| Volvo | EC140C L | 14560145 |
| Volvo | EC140C L | 14573820 |
| Volvo | EC140C L | 14573798 |
| Volvo | EC140C LM | 14566996 |
| Volvo | EC140C LM | 14560146 |
| Volvo | EC140D | 14566996 |
| Volvo | EC140D | 14528733 |
| Volvo | EC140D | 14560146 |
| Volvo | EC140D L | 14614941 |
| Volvo | EC140D L | 14708138 |
| Volvo | EC140D L | 14707757 |
| Volvo | EC140D LM | 14566996 |
| Volvo | EC140D LM | 14528733 |
| Volvo | EC140D LM | 14560146 |
| Volvo | EC140E LM | 14694032 |
| Volvo | ECR145E L | 14664368 |
| Volvo | EC15 XR | PJ4890074 |
| Volvo | EC15 XR | 11801826 |
| Volvo | EC15 XT | 11806481 |
| Volvo | EC15 XTV | 11806481 |
| Volvo | EC150 | 7117-30011 |
| Volvo | EC150 | 7117-30050 |
| Volvo | EC150 | 1143-01112 |
| Volvo | EC15B XR | PJ4890074 |
| Volvo | EC15B XR | 11801826 |
| Volvo | EC15B XT | 11806481 |
| Volvo | EC15B XTV | 11806481 |
| Volvo | EC160B | 14515045 |
| Volvo | EC160B | 14514895 |
| Volvo | EC160B LC | 14515045 |
| Volvo | EC160B LC | 14528730 |
| Volvo | EC160B LC | 14533649 |
| Volvo | EC160B LC | 14514895 |
| Volvo | EC160B NLC | 14515045 |
| Volvo | EC160B NLC | 14528730 |
| Volvo | EC160B NLC | 14514895 |
| Volvo | EC160B NLC | 14533649 |
| Volvo | EC160C L | 14538585 |
| Volvo | EC160C L | 14538546 |
| Volvo | EC160E | 14694035 |
| Volvo | EC170D | 14694035 |
| Volvo | EC17C | 15615696 |
| Volvo | EC17C | 15160039 |
| Volvo | EC180 | 14521211 |
| Volvo | EC180 | 14520965 |
| Volvo | EC180B LC | 14528731 |
| Volvo | EC180B LC | 14533650 |
| Volvo | EC180C L | 14538586 |
| Volvo | EC180C L | 14528733 |
| Volvo | EC180C L | 14538547 |
| Volvo | EC180D | 14538586 |
| Volvo | EC180D | 14528733 |
| Volvo | EC180D | 14538547 |
| Volvo | EC18C | 15615696 |
| Volvo | EC18C | 15160039 |
| Volvo | EC20 XT | 11806481 |
| Volvo | EC20 XTV | 11806481 |
| Volvo | EC200D LR | 14616208 |
| Volvo | EC200D LR | 14528733 |
| Volvo | EC200D LR | 14613847 |
| Volvo | EC20B XT | 11806481 |
| Volvo | EC20B XTV | 11806481 |
| Volvo | EC20C | 15615696 |
| Volvo | EC20C | 15160039 |
| Volvo | EC210 | 7117-30030 |
| Volvo | EC210 | 14525366 |
| Volvo | EC210B | 7117-30030 |
| Volvo | EC210B | 14525366 |
| Volvo | EC210B | 14525365 |
| Volvo | EC210B | 14524184 |
| Volvo | EC210B | 1143-01270 |
| Volvo | EC210B LC | 7117-30030 |
| Volvo | EC210B LC | 14528732 |
| Volvo | EC210B LC | 1143-01270 |
| Volvo | EC210B LC | 14533651 |
| Volvo | EC210C L | 14528930 |
| Volvo | EC210C L | 14533639 |
| Volvo | EC210C N | 14528930 |
| Volvo | EC220D | 14616208 |
| Volvo | EC220D | 14528733 |
| Volvo | EC220D | 14613847 |
| Volvo | EC220D N | 14616208 |
| Volvo | EC220D N | 14528733 |
| Volvo | EC220D N | 14613847 |
| Volvo | EC220D NL | 14616208 |
| Volvo | EC220D NL | 14528733 |
| Volvo | EC220D NL | 14613847 |
| Volvo | EC235C LD | 14550250 |
| Volvo | EC235C NL | 14549304 |
| Volvo | EC240 | 7117-34001 |
| Volvo | EC240 | 7117-34050 |
| Volvo | EC240 | 1143-00111 |
| Volvo | EC240 LC | 7117-34001 |
| Volvo | EC240 LC | 7117-34050 |
| Volvo | EC240 LC | 1143-00111 |
| Volvo | EC240 LR | 7117-34001 |
| Volvo | EC240 LR | 7117-34050 |
| Volvo | EC240 LR | 1143-00111 |
| Volvo | EC240 NLC | 7117-34001 |
| Volvo | EC240 NLC | 7117-34050 |
| Volvo | EC240 NLC | 1143-00111 |
| Volvo | EC240B | 7117-34001 |
| Volvo | EC240B | 14533652 |
| Volvo | EC240B | 14525367 |
| Volvo | EC240B | 1143-00111 |
| Volvo | EC240B | 14524185 |
| Volvo | EC240B LC | 14616211 |
| Volvo | EC240B LC | 14575732 |
| Volvo | EC240B LC | 14577126 |
| Volvo | EC240B LR | 14616211 |
| Volvo | EC240B LR | 14575732 |
| Volvo | EC240B LR | 14577126 |
| Volvo | EC240B NLC | 14528734 |
| Volvo | EC240B NLC | 14525367 |
| Volvo | EC240B NLC | 7117-34001 |
| Volvo | EC240B NLC | 14528735 |
| Volvo | EC240B NLC | 14533652 |
| Volvo | EC240B NLC | 14524185 |
| Volvo | EC240B NLC | 1143-00111 |
| Volvo | EC240BLC | 14616211 |
| Volvo | EC240C L | 14528734 |
| Volvo | EC240C L | 14616211 |
| Volvo | EC240C L | 14528735 |
| Volvo | EC240C L | 14575732 |
| Volvo | EC240C L | 14533652 |
| Volvo | EC240C L | 14577126 |
| Volvo | EC240C LD | 14616211 |
| Volvo | EC240C LD | 14575732 |
| Volvo | EC240C LD | 14577126 |
| Volvo | EC240C LR | 14616211 |
| Volvo | EC240C LR | 14575732 |
| Volvo | EC240C LR | 14577126 |
| Volvo | EC240C NL | 14616211 |
| Volvo | EC240C NL | 14616211 |
| Volvo | EC240C NL | 14575732 |
| Volvo | EC240C NL | 14577126 |
| Volvo | EC240CL | 14616211 |
| Volvo | EC240CLD | 14616211 |
| Volvo | EC240CLR | 14616211 |
| Volvo | EC240LC | 7117-34001 |
| Volvo | EC25 | 11802600 |
| Volvo | EC25 | 11802600 |
| Volvo | EC25 | 7417255 |
| Volvo | EC25 | 4890101 |
| Volvo | EC250D | 14621717 |
| Volvo | EC250D | 14634645 |
| Volvo | EC280 | 14268381 |
| Volvo | EC280 | 14344115 |
| Volvo | EC290 | 7117-38020 |
| Volvo | EC290 LC | 7117-38001 |
| Volvo | EC290 LC | 7117-38050 |
| Volvo | EC290 LC | 7240-10402 |
| Volvo | EC290B | 14521691 |
| Volvo | EC290B | 14522894 |
| Volvo | EC290B | 14524707 |
| | | |
| --- | --- | --- |
| Volvo | EC290B | 14528257 |
| Volvo | EC290B | 14551154 |
| Volvo | EC290B | 7117-38020 |
| Volvo | EC290B | 14528280 |
| Volvo | EC290B | 14509996 |
| Volvo | EC290B | 14521839 |
| Volvo | EC290B | 14522919 |
| Volvo | EC290C L | 14551154 |
| Volvo | EC290C L | 14592030 |
| Volvo | EC290C L | 14528280 |
| Volvo | EC290C L | 14592002 |
| Volvo | EC290LC | 7117-38001 |
| Volvo | EC30 | 11802600 |
| Volvo | EC30 | 11802600 |
| Volvo | EC30 | 7417255 |
| Volvo | EC30 | 4890101 |
| Volvo | EC300D L | 14690440 |
| Volvo | EC300E L | 14690440 |
| Volvo | EC330B LC | 7117-45010 |
| Volvo | EC330B LC | 14513049 |
| Volvo | EC330B LC | 14521695 |
| Volvo | EC330B LC | 14522994 |
| Volvo | EC330B LC | 14528259 |
| Volvo | EC330B LC | 14551150 |
| Volvo | EC330B LC | 7117-45010 |
| Volvo | EC330B LC | 14516448 |
| Volvo | EC330B LC | 7117-45060 |
| Volvo | EC330B LC | 14516453 |
| Volvo | EC330B LC | 14521840 |
| Volvo | EC330B LC | 14522920 |
| Volvo | EC330B LC | 14528281 |
| Volvo | EC330B LC | 7420-10601 |
| Volvo | EC330C L | 14566400 |
| Volvo | EC330C L | 14566401 |
| Volvo | EC330C L | 14551802 |
| Volvo | EC330C LD | 14566400 |
| Volvo | EC330C LD | 14566401 |
| Volvo | EC330C LD | 14551802 |
| Volvo | EC35 | 11802522 |
| Volvo | EC35 | 7417305 |
| Volvo | EC35C | 11808037 |
| Volvo | EC35C | 15013458 |
| Volvo | EC340D | 14603461 |
| Volvo | EC350E | 14694046 |
| Volvo | EC360 | 7117-45010 |
| Volvo | EC360 | 7117-45060 |
| Volvo | EC360 | 7240-10601 |
| Volvo | EC360B LC | 14513049 |
| Volvo | EC360B LC | 14521695 |
| Volvo | EC360B LC | 14522994 |
| Volvo | EC360B LC | 14528259 |
| Volvo | EC360B LC | 14551150 |
| Volvo | EC360B LC | 14566400 |
| Volvo | EC360B LC | 14516448 |
| Volvo | EC360B LC | 14528260 |
| Volvo | EC360B LC | 14566401 |
| Volvo | EC360B LC | 14516453 |
| Volvo | EC360B LC | 14528281 |
| Volvo | EC360B LC | 14528281 |
| Volvo | EC360B LC | 14551802 |
| Volvo | EC360B LC | 14521840 |
| Volvo | EC360B LC | 14522920 |
| Volvo | EC360B NLC | 14528259 |
| Volvo | EC360B NLC | 14528260 |
| Volvo | EC360B NLC | 14528281 |
| Volvo | EC360C HR | 14566400 |
| Volvo | EC360C HR | 14566401 |
| Volvo | EC360C HR | 14551802 |
| Volvo | EC360C L | 14566400 |
| Volvo | EC360C L | 14551150 |
| Volvo | EC360C L | 14528259 |
| Volvo | EC360C L | 14566401 |
| Volvo | EC360C L | 14551802 |
| Volvo | EC360C LD | 14566400 |
| Volvo | EC360C LD | 14566401 |
| Volvo | EC360C LD | 14551802 |
| Volvo | EC360C NL | 14551150 |
| Volvo | EC360C NL | 14528259 |
| Volvo | EC360C NL | 14528260 |
| Volvo | EC360C NL | 14528281 |
| Volvo | EC360C NL | 14528281 |
| Volvo | EC380D HR | 14566400 |
| Volvo | EC380D HR | 14566401 |
| Volvo | EC380D HR | 14551802 |
| Volvo | EC380D L | 14603461 |
| Volvo | EC380E L | 14667673 |
| Volvo | EC460 | 1143-01100 |
| Volvo | EC460 | 1143-01090 |
| Volvo | EC460 LC | 1143-01100 |
| Volvo | EC460 LC | 1143-01090 |
| Volvo | EC460B LC | 14531093 |
| Volvo | EC460B LC | 14608847 |
| Volvo | EC460B LC | 14508165 |
| Volvo | EC460B LC | 14569653 |
| Volvo | EC460C L | 14608847 |
| Volvo | EC460C L | 1143-01090 |
| Volvo | EC460LC | 1143-01100 |
| Volvo | EC460C L | 14557192 |
| Volvo | EC480D | 14557192 |
| Volvo | EC480D | 14608847 |
| Volvo | EC480D HR | 14608847 |
| Volvo | EC480D HR | 14508165 |
| Volvo | EC480D L | 14648036 |
| Volvo | EC480D L | 14648036 |
| Volvo | EC480E | 14733880 |
| Volvo | EC45 | 11806479 |
| Volvo | EC50 | 4890094 |
| Volvo | EC50 | PJ4890094 |
| Volvo | EC50 | 4890094 |
| Volvo | EC50 VV | PJ4890094 |
| Volvo | EC50 VV | 4890094 |
| Volvo | EC55 | 14500160 |
| Volvo | EC55-2 | 14500160 |
| Volvo | EC55-EU | 14500160 |
| Volvo | EC55B | 14500160 |
| Volvo | EC55B | 14505081 |
| Volvo | EC55B | 14505043 |
| Volvo | EC55C | 14559303 |
| Volvo | EC55C | 14505081 |
| Volvo | EC55C | 14578769 |
| Volvo | EC60C | 14559303 |
| Volvo | EC60C | 14505081 |
| Volvo | EC60C | 14578769 |
| Volvo | EC70 | 4890093 |
| Volvo | EC70 | 7416946 |
| Volvo | EC70 VV | 4890093 |
| Volvo | ECR145C L | 14560145 |
| Volvo | ECR145C L | 14573820 |
| Volvo | ECR145C L | 14573798 |
| Volvo | ECR145D L | 14614941 |
| Volvo | ECR235C L | 14556702 |
| Volvo | ECR235C L | 14553799 |
| Volvo | ECR28 | 11802600 |
| Volvo | ECR28 | 7417255 |
| Volvo | ECR305C L | 14569761 |
| Volvo | ECR305C L | 14566401 |
| Volvo | ECR305C L | 14568908 |
| Volvo | ECR38 | 11808037 |
| Volvo | ECR38 | 11802522 |
| Volvo | ECR38 | 15013458 |
| Volvo | ECR48C | 11808054 |
| Volvo | ECR38 | 7417305 |
| Volvo | ECR88 | 14516538 |
| Volvo | ECR88 | 14520757 |
| Volvo | ECR88 PLUS | 14516538 |
| Volvo | ECR88 PLUS | 14520757 |
| Volvo | EC700B | 14522564 |
| Volvo | EC700C | 14522564 |
| Volvo | EC700C | 14681190 |
| Volvo | EC750D | 14681190 |
| Volvo | EC750E | 14681190 |
| Volvo | FC2121C | 14528930 |
| Volvo | FC2121C | 14533639 |
| Volvo | FC2421C | 14528734 |
| Volvo | FC2421C | 14616211 |
| Volvo | FC2421C | 14528735 |
| Volvo | FC2421C | 14575732 |
| Volvo | FC2421C | 14533652 |
| Volvo | FC2421C | 14577126 |
| Volvo | FC2924C | 14592030 |
| Volvo | FC2924C | 14592002 |
| Volvo | FC3329C | 14566400 |
| Volvo | FF3329C | 14566400 |
| Volvo | FF3329C | 14566401 |
| Volvo | FF3329C | 14551802 |
| Volvo | PL4608 | 14608847 |
| Volvo | PL4608 | 14569653 |
| Volvo | PL4611 | 14608847 |
| Volvo | PL4611 | 14569653 |