Your best resource for Yanmar Final Drives
Looking for the perfect final drive for your excavator or compact track loader? Look no further than Summit Tractor Parts! We offer an extensive selection of Yanmar final drives and travel motors that are sure to fit your model. Our FDC final drives are of the highest quality, all while being available at affordable aftermarket prices! Not only that, but they come with a 2-year warranty – so you can trust in their lasting performance.
If you prefer to recondition your parts, we've got you covered there too. With our diverse range of spare parts, both original and aftermarket, your repairs will be more affordable than ever. We even offer a convenient 'repair and return' service to make your life easier.
Ready to take the plunge? Use our 'Final Drive Finder' tool below to explore your options and make your quote request. We're eager to help get your machine back in action ASAP!
Call us today at 866-695-0970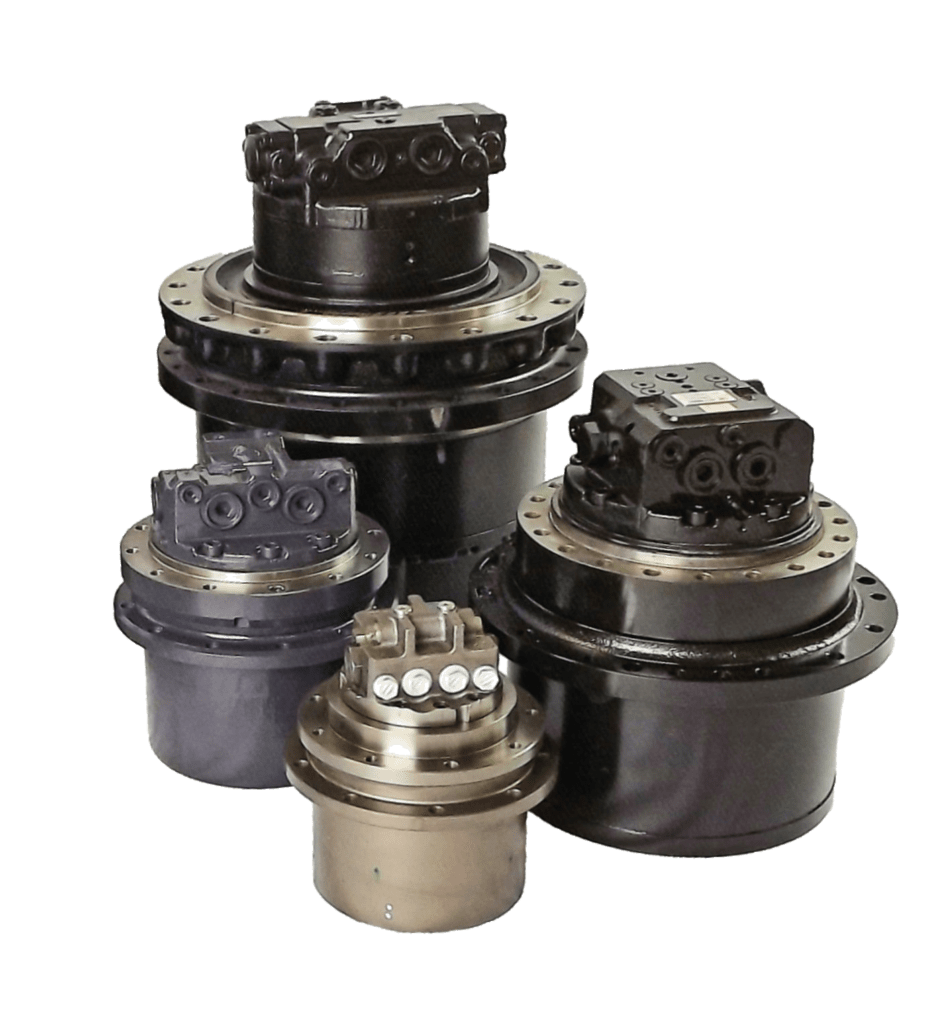 Looking for a different part?
Summit Tractor Parts is committed to supporting the following list of models with FDC final drives, travel motors, and repair parts. If you need any assistance identifying the correct final drive for your machine, please use the "FDC Final Drive Finder" above or give us a call.
| | | |
| --- | --- | --- |
| Yanmar | B12 | 172137-73351 |
| Yanmar | B12 | 172137-73361 |
| Yanmar | B12-1 | 172137-73351 |
| Yanmar | B12-1 | 172137-73361 |
| Yanmar | B12-2 | 172137-73351 |
| Yanmar | B12-2 | 172137-73361 |
| Yanmar | B12-2B | 172137-73351 |
| Yanmar | B12-2B | 172137-73361 |
| Yanmar | B12-2B | 172183-73300 |
| Yanmar | B14 | 172137-73361 |
| Yanmar | B14 | 172137-73351 |
| Yanmar | B15 | 172194-73300 |
| Yanmar | B15 | 172194-73020 |
| Yanmar | B15 | 172194-73010 |
| Yanmar | B15-3 | 172451-73300B |
| Yanmar | B17 | 172137-73351 |
| Yanmar | B17 | 172137-73361 |
| Yanmar | B17 | 172137-70631 |
| Yanmar | B17 | 172137-70641 |
| Yanmar | B17-1 | 172137-73351 |
| Yanmar | B17-1 | 172137-73361 |
| Yanmar | B17-2 | 172137-73351 |
| Yanmar | B17-2 | 172137-73361 |
| Yanmar | B17-2 | 172180-73300 |
| Yanmar | B17-2B | 172137-73351 |
| Yanmar | B17-2B | 172137-73361 |
| Yanmar | B17-2B | 172183-73300 |
| Yanmar | B17-3 | 172464-73300B |
| Yanmar | B18EX | 172464-73300B |
| Yanmar | B19 | 172173-73300 |
| Yanmar | B19 | 172183-73500 |
| Yanmar | B22 | 172141-73350 |
| Yanmar | B22-1 | 172141-73351 |
| Yanmar | B22-1 | 172141-73350 |
| Yanmar | B22-2 | 172141-73350 |
| Yanmar | B22-2 | 172171-73700 |
| Yanmar | B22-2A | 172141-73350 |
| Yanmar | B22-2B | 172141-73350 |
| Yanmar | B22-2B | 172434-73350 |
| Yanmar | B22-2B | 172452-73300 |
| Yanmar | B25 | 172141-73350 |
| Yanmar | B2-5 | 172456-73300 |
| Yanmar | B25-1 | 172141-73350 |
| Yanmar | B25-1 | 172141-73351 |
| Yanmar | B25V | 172441-73300 |
| Yanmar | B25V | 172441-73320 |
| Yanmar | B25V | 172441-73330 |
| Yanmar | B25V-1 | 172441-73301 |
| Yanmar | B27 | 172142-73300 |
| Yanmar | B27-2 | 172142-73300 |
| Yanmar | B27-2 | 172168-73300 |
| Yanmar | B27-2 | 172168-71800 |
| Yanmar | B27-2A | 172169-73300 |
| Yanmar | B27-2A | 172168-73300 |
| Yanmar | B27-2B | 172422-73300 |
| Yanmar | B27-2B | 172175-70100 |
| Yanmar | B3 | 172142-73300 |
| Yanmar | B3 | 172168-73300 |
| Yanmar | B3 | 172168-71800 |
| Yanmar | B30V | 172442-73300 |
| Yanmar | B30V | 172442-73420 |
| Yanmar | B32 | 172153-73300 |
| Yanmar | B32-1 | 172153-73300 |
| Yanmar | B3-3 | 172422-73300 |
| Yanmar | B3-3 | 172175-70100 |
| Yanmar | B37 | 172148-73300 |
| Yanmar | B37-2 | 172148-73300 |
| Yanmar | B37-2A | 172148-73300 |
| Yanmar | B37-2B | 172422-73300 |
| Yanmar | B37-2B | 172175-70100 |
| Yanmar | B37V | 172442-73300 |
| Yanmar | B37V | 172442-73420 |
| Yanmar | B37V | 172442-73330 |
| Yanmar | B5 | 172147-73300 |
| Yanmar | B5 | 172147-73301 |
| Yanmar | B50 | 172147-73300 |
| Yanmar | B50-2 | 172147-73301 |
| Yanmar | B50-2B | 172147-73300 |
| Yanmar | B50-C | 172147-73300 |
| Yanmar | B50-P | 172147-73300 |
| Yanmar | B6-1 | 172147-73300 |
| Yanmar | B6-1 | 172147-73301 |
| Yanmar | B6-3 | 172425-73300 |
| Yanmar | B6U | 172900-66370 |
| Yanmar | B6U | 182900-33470 |
| Yanmar | B7-3 | 172455-73300 |
| Yanmar | B7-3 | 172455-73301 |
| Yanmar | B7-5 | 172479-73300 |
| Yanmar | B7-5A | 172479-73300 |
| Yanmar | B7-5A | 172479-73301 |
| Yanmar | C80R | 172646-28300 |
| Yanmar | C80R-1 | 172646-28300 |
| Yanmar | SV100 | 172499-73300 |
| Yanmar | SV100-1 | 172A69-73300 |
| Yanmar | SV100-1A | 172A69-73300 |
| Yanmar | SV100-2A | 172A69-73300 |
| Yanmar | SV100-2A-2PB | 172A69-73300 |
| Yanmar | SV100-2B | 172A69-73300 |
| Yanmar | SV20 | 172481-73300 |
| Yanmar | SV26 | 172482-73300 |
| | | |
| --- | --- | --- |
| Yanmar | T210-1 | 172552-00311 |
| Yanmar | VIO15 | 172183-73300 |
| Yanmar | VIO17 | 172A64-73300 |
| Yanmar | VIO17A | 172A64-73300 |
| Yanmar | VIO20 | 172173-73300 |
| Yanmar | VIO20 | 172173-73301 |
| Yanmar | VIO20-2 | 172456-73300 |
| Yanmar | VIO20-3 | 172456-73300 |
| Yanmar | VIO20-3 | 172456-73301 |
| Yanmar | VIO20-3 | 172456-73302 |
| Yanmar | VIO25 | 172482-77300 |
| Yanmar | VIO25-3 | 172482-73300 |
| Yanmar | VIO25-4 | 172482-73300 |
| Yanmar | VIO25-6A | 172B16-73300 |
| Yanmar | VIO27-2 | 172457-73700 |
| Yanmar | VIO27-2 | 172457-73700-1 |
| Yanmar | VIO27-3 | 172457-73700 |
| Yanmar | VIO27-3 | 172457-73700-1 |
| Yanmar | VIO27-5 | 172457-73701 |
| Yanmar | VIO30 | 172484-73300 |
| Yanmar | VIO30 | 172175-73300 |
| Yanmar | VIO30 | 172175-70100 |
| Yanmar | VIO30-1 | 172422-73300 |
| Yanmar | VIO30-1 | 172175-70100 |
| Yanmar | VIO30-2 | 172458-73700 |
| Yanmar | VIO30-2 | 172450-73320 |
| Yanmar | VIO30-3 | 172458-73700 |
| Yanmar | VIO30-3 | 172458-73700-1 |
| Yanmar | VIO30-3 | 172450-73320 |
| Yanmar | VIO30-3 | 172450-73320 |
| Yanmar | VIO33U | 172484-73300 |
| Yanmar | VIO35-2 | 172458-73700 |
| Yanmar | VIO35-2 | 172450-73320 |
| Yanmar | VIO35-3 | 172484-73300 |
| Yanmar | VIO35-3 | 172458-73700 |
| Yanmar | VIO35-3 | 172458-73700-1 |
| Yanmar | VIO35-3 | 172450-73320 |
| Yanmar | VIO35-3 | 172450-73320 |
| Yanmar | VIO35-5 | 172458-73701 |
| Yanmar | VIO35-5 | 172A46-73510 |
| Yanmar | VIO35-5B | 172458-73701 |
| Yanmar | VIO35-5B | 172A46-73510 |
| Yanmar | VIO35-6A | 172B03-73300 |
| Yanmar | VIO40 | 172164-73300 |
| Yanmar | VIO40-1 | 172460-73300 |
| Yanmar | VIO40-2 | 172460-73300 |
| Yanmar | VIO40-3 | 172460-73300 |
| Yanmar | VIO40-TW | 172164-73300 |
| Yanmar | VIO45 | 172460-73300 |
| Yanmar | VIO45-5 | 172460-73300 |
| Yanmar | VIO50 | 172147-73300 |
| Yanmar | VIO50 | 172147-73300 |
| Yanmar | VIO50-1 | 172425-73300 |
| Yanmar | VIO50-1 | 172425-73300 |
| Yanmar | VIO50-2 | 172460-73300 |
| Yanmar | VIO50-3 | 172460-73300 |
| Yanmar | VIO50U | 172Z47-73300 |
| Yanmar | VIO55 | 172460-73300 |
| Yanmar | VIO55 | 172486-73310 |
| Yanmar | VIO55-2 | 172460-73300 |
| Yanmar | VIO55-3 | 172460-73300 |
| Yanmar | VIO55-5 | 172A48-73300 |
| Yanmar | VIO55-5 | 172A48-73301 |
| Yanmar | VIO55-5B | 172A48-73301 |
| Yanmar | VIO55-6A | 172B05-73300 |
| Yanmar | VIO57U | 172A48-73301 |
| Yanmar | VIO57U | 172Z48-73340 |
| Yanmar | VIO70 | 172187-73300 |
| Yanmar | VIO70-2 | 172455-73300 |
| Yanmar | VIO75 | 172479-73300 |
| Yanmar | VIO75 | 172479-73301 |
| Yanmar | VIO75-A | 172479-73300 |
| Yanmar | VIO75-C | 172A65-73300 |
| Yanmar | VIO75-C | 172479-73301 |
| Yanmar | VIO80 | 172A89-73300 |
| Yanmar | VIO80-1A | 172A89-73300 |
| Yanmar | VIO80U | 172A89-73300 |
| Yanmar | YB10-2 | E1903105500 |
| Yanmar | YB10-2 | E1912003300 |
| Yanmar | YB10-2 | E1903009300 |
| Yanmar | YB121 | 172137-73350 |
| Yanmar | YB121 | 172137-73351 |
| Yanmar | YB121 | 172137-70630 |
| Yanmar | YB121 | 172137-70631 |
| Yanmar | YB121 | 172137-70640 |
| Yanmar | YB121 | 172137-70641 |
| Yanmar | YB151 | 172137-73350 |
| Yanmar | YB151 | 172137-73351 |
| Yanmar | YB151 | 172137-70630 |
| Yanmar | YB151 | 172137-70631 |
| Yanmar | YB151 | 172137-70640 |
| Yanmar | YB151 | 172137-70641 |
| Yanmar | YB221 | 172141-73350 |
| Yanmar | YB221 | 172141-73351 |
| Yanmar | YB251 | 172122-73350 |
| Yanmar | YB271 | 172142-73300 |
| Yanmar | YB301 | 172122-73350 |
| Yanmar | YB351 | 172123-73350 |
| Yanmar | YB451 | 172124-73310 |
| Yanmar | YB501 | 172124-73310 |