Specializing in Hyundai Hydraulic Pumps
Do you need a hydraulic pump for your Hyundai excavator? Look no further than Summit Tractor Parts! Our extensive stock of Hyundai hydraulic pumps includes both genuine and aftermarket options, ensuring you can find the perfect fit for your machine and budget. Our hydraulic pumps offer the same level of performance, functionality, and quality as genuine or OEM assemblies, but at a significantly lower price. Plus, each one comes with a 1-year warranty, so you can rest easy knowing they can go the distance.
If reconditioning is more your style, no problemo! We've got a ton of OEM and aftermarket spare parts to get your repairs done quickly and economically. And hey, we even offer a 'repair and return' service if you're not feeling up for the challenge.
To quickly determine what's applicable for your machine and submit a quote request, use the 'Hydraulic Pump Finder'  tool below. Our team will provide prompt responses and affordable solutions. Rest assured, your equipment will run like new again with Summit Tractor Parts!
Call us today at 866-695-0970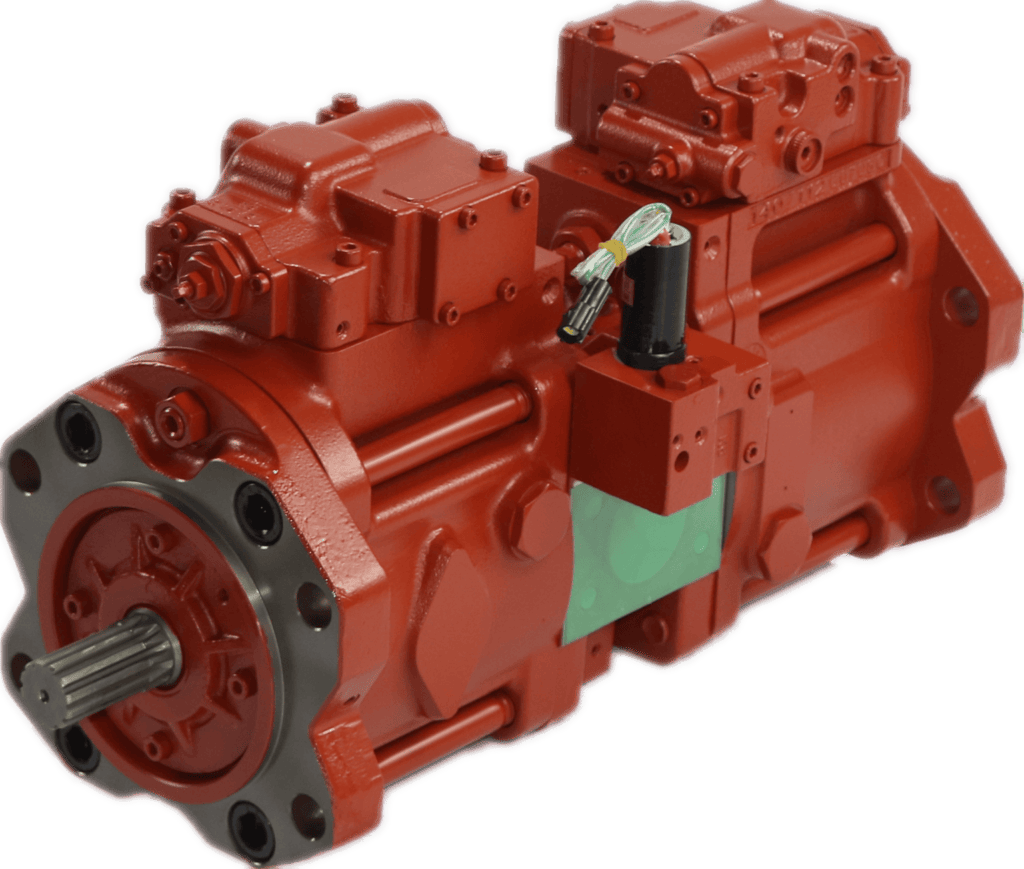 Looking for a different part?
Summit Tractor Parts is committed to supporting the following list of models with main hydraulic pumps, pilot pumps, and repair parts. If you need any assistance identifying the correct hydraulic pump for your machine, please use the "Hydraulic Pump Finder" above or give us a call.
| | | |
| --- | --- | --- |
| Hyundai | R130LC-3 | 11E6-1501 |
| Hyundai | HX140 L | 31Q4-10010 |
| Hyundai | HX380 L | 31KA-10010 |
| Hyundai | HX480 L | 31KB-10010 |
| Hyundai | R130LC-3 | 31E6-03010 |
| Hyundai | R1400W-7 | 31N4-15021 |
| Hyundai | R140LC-7 | 31N3-10010 |
| Hyundai | R140LC-7 | 31N3-10011 |
| Hyundai | R140LC-7A | 31N4-10010 |
| Hyundai | R140LC-9S | 31Q4-10020 |
| Hyundai | R140W-7 | 31N4-15012 |
| Hyundai | R140W-7A | 31N4-15040 |
| Hyundai | R140W-7S | 31N4-15030 |
| Hyundai | R140W-9 | 31Q4-15020 |
| Hyundai | R140W-9S | 31Q4-15030 |
| Hyundai | R150W-7 | 31N4-15012 |
| Hyundai | R160LC-3 | 31EG-10010 |
| Hyundai | R160LC-7 | 31N5-10011 |
| Hyundai | R160LC-7A | 31N5-10030 |
| Hyundai | R160LC-9 | 31Q5-10010 |
| Hyundai | R170W-7 | 31N5-15010 |
| Hyundai | R170W-7 | 31N5-15011 |
| Hyundai | R170W-7A | 31N5-15030 |
| Hyundai | R170W-9 | 31Q5-15010 |
| Hyundai | R170W-9S | 31Q5-15030 |
| Hyundai | R180LC-7 | 31N5-10011 |
| Hyundai | R180LC-7A | 31N5-10030 |
| Hyundai | R180LC-9 | 31Q5-10010 |
| Hyundai | R180LC-9S | 31Q5-10010 |
| Hyundai | R200LC | 31E1-03010 |
| Hyundai | R210 ECONO | 31E1-03110 |
| Hyundai | R210LC-3 | 31EM-10010 |
| Hyundai | R210LC-7 | 31N6-10010 |
| Hyundai | R210LC-7A | 31N6-10080 |
| Hyundai | R210LC-7H | 31N6-10020 |
| Hyundai | R210LC-7H | 31N6-10030 |
| Hyundai | R210LC-9 | 31Q6-10010 |
| Hyundai | R210LC-9 | 31Q6-10020 |
| Hyundai | R210LC-9 | 31Q6-19010 |
| Hyundai | R220LC-7 | 31N6-10020 |
| Hyundai | R220LC-9S | 31Q6-10050 |
| | | |
| --- | --- | --- |
| Hyundai | R250LC-3 | 31EN-10010 |
| Hyundai | R250LC-7 | 31N7-10010 |
| Hyundai | R250LC-7A | 31N7-10030 |
| Hyundai | R250LC-7AHW | 31N7-10030 |
| Hyundai | R250LC-9 | 31Q7-10010 |
| Hyundai | R250LC-9S | 31Q7-10050 |
| Hyundai | R265LC-9 | 31Q7-10050 |
| Hyundai | R290LC-3 | 31E9-03010 |
| Hyundai | R290LC-7 | 31N8-10010 |
| Hyundai | R290LC-7 | 31N8-10060 |
| Hyundai | R290LC-7A | 31N8-10050 |
| Hyundai | R290LC-7A | 31N8-10080 |
| Hyundai | R290LC-7H | 31N8-10020 |
| Hyundai | R290LC-9 | 31Q8-10010 |
| Hyundai | R300LC-7 | 31N8-10030 |
| Hyundai | R300LC-9 | 31Q8-10030 |
| Hyundai | R305LC-7 | 31N8-10070 |
| Hyundai | R305LC-7 | 31N8-10011 |
| Hyundai | R320LC-3 | 31E5-04010 |
| Hyundai | R320LC-3 | 31E5-03010 |
| Hyundai | R320LC-7 | 31N9-10010 |
| Hyundai | R320LC-7A | 31N9-10010 |
| Hyundai | R320LC-7HW | 31N9-10010 |
| Hyundai | R320LC-9 | 31Q9-10010 |
| Hyundai | R330LC-9S | 31Q9-10080 |
| Hyundai | R330LC-9S | 31Q9-10030 |
| Hyundai | R340LC-7 | 31N9-10050 |
| Hyundai | R360LC-3 | 31EH-03010 |
| Hyundai | R360LC-7 | 31NA-10010 |
| Hyundai | R360LC-7A | 31NA-10030 |
| Hyundai | R370LC-7 | 31NA-10021 |
| Hyundai | R380LC-9 | 31QA-10050 |
| Hyundai | R380LC-9 | 31QA-10010 |
| Hyundai | R380LC-9SH | 31QA-10021 |
| Hyundai | R450LC-7 | 31NB-10010 |
| Hyundai | R450LC-7 | 31NB-10022 |
| Hyundai | R480LC-9 | 31QB-10030 |
| Hyundai | R520LC-9 | 31QB-10011 |
| Hyundai | R520LC-9 | 31QB-10030 |
| Hyundai | R800LC-7A | 31ND-10010 |
| Hyundai | R800LC-9 | 31QD-10010 |